Green Badger LEED & Sustainable Construction Resources
The Ultimate Guide to LEED v4 and v4.1 Construction Credits for General Contractors
The most comprehensive educational resource for general contractors, filled with practical guidance on how to achieve LEED construction credits.
It's essential for project teams to opt into LEED v4.1 for all the BPDO credits and for Low Emitting Materials. It may or may not be useful for Construction Waste Management, and won't make a difference for Construction Activity Pollution prevention or Indoor air quality management.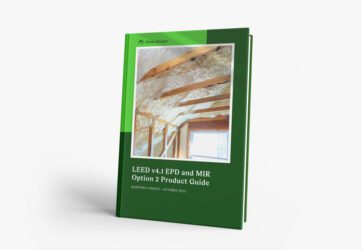 There aren't currently a lot of products that comply with BPDO Option 2 optimization requirements. That's why we'll be releasing quarterly updates to keep your teams in the loop when new products hit the market.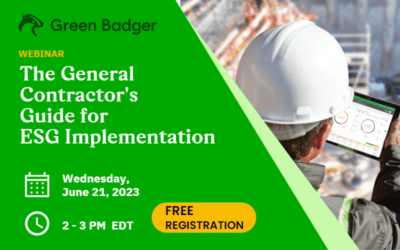 ESG is everywhere nowadays. But, what does it mean for general contractors and the construction industry? In this highly anticipated webinar, we will unveil Green Badger's groundbreaking ESG Implementation Roadmap for General Contractors, designed to navigate the uncharted waters of ESG in construction. This roadmap will equip General Contractors with the essential tools and strategies needed to become more profitable, attract and retain talent, and become a market leader through ESG. Register now and be part of the ESG revolution in the construction industry.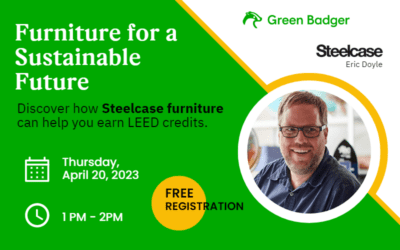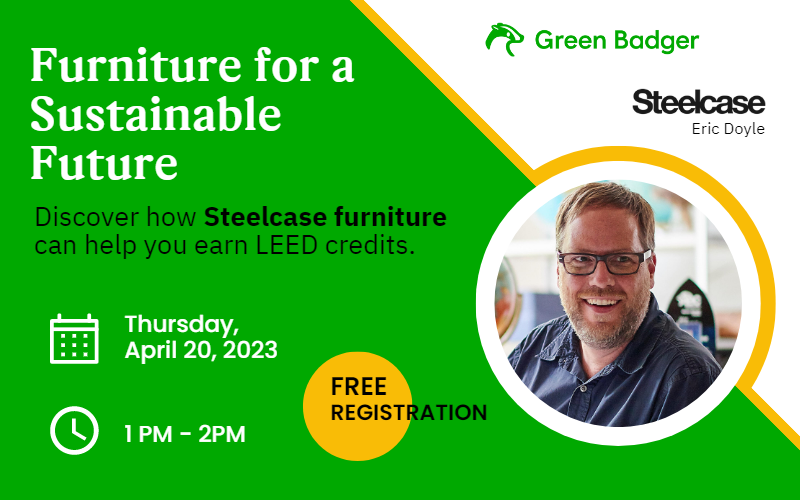 Join Green Badger and Steelcase's Global Sustainability Consultant, Eric Doyle, for an insightful webinar on how furniture products can be a valuable asset in achieving LEED credits. Gain a deeper understanding of LEED documentation for furniture products and the BIFMA LEVEL certification system from Eric's expertise. Discover how Steelcase products can contribute to meeting your sustainability goals, and the seamless process of working with Steelcase dealers. Learn about Steelcase's commitment to materials transparency and eliminating chemicals of concern.
LEED v4.1 Submittal Cover Sheet
There is no industry standard for LEED submittal cover sheets. You can create your own, see if anyone on your project team has a standard template – or you can download our free submittal cover sheet template for submitting your LEED v4.1 product data.
IAQ Management Plan Template
Developing and implementing an indoor air quality (IAQ) management plan for the construction and preoccupancy phases of the building is required to earn the IEQc3 credit – and this template is a great place to start!
Construction Waste Management Plan Template for LEED v4
Having a good construction waste management plan is the first step towards earning the MRc5 in LEED v4.1. First of all, it is required for the pre-requisite under MRp2 to have a construction waste management plan.
LEED Low Emitting Materials Cheat Sheet
Access the Low Emitting Cheat Sheet with Green Badger's recommendations for which categories to track to earn the LEED v4/v4.1 Low Emitting Materials credit.
LEED Construction Activity Pollution Prevention Cheat Sheet
This is the only LEED construction-related prerequisite. You have to achieve this or your project cannot earn certification; it's required on all LEED projects.
LEED Construction Waste Management Plan Cheat Sheet
Access the cheat sheet to see Green Badger's recommendations for how to earn the LEED v4/v4.1 Construction Waste Management credit.
LEED Indoor Air Quality Management Cheat Sheet
Access the Indoor Air Quality Management Cheat Sheet with Green Badger's recommendations for which categories to track to earn this LEED v4/v4.1 credit.
LEED Indoor Air Quality Assessment Cheat Sheet
Access the cheat sheet for Green Badger's recommendations for which path to take for earning IEQc4 Indoor Air Quality Assessment for LEED v4.1.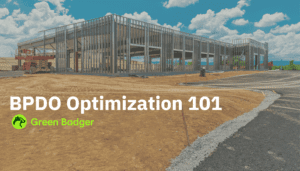 There are credits in LEED that are no brainers, and then are credits that seem like no one can achieve. Up until the latest updates to LEED v4.1, the tough to achieve credits were the EPD Optimization and the Material Ingredient Optimization credits that fell under the Building Product and Disclosure Optimization (BPDO) group. Fortunately,…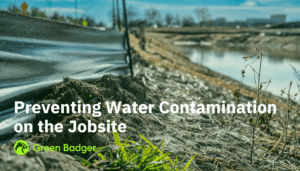 Construction activities can lead to the contamination of nearby waterways if the appropriate actions are not taken. In this blog we discuss how properly managing Erosion and Sedimentation Control and Concrete Washout Water can prevent your construction site from polluting waterways. Erosion and Sedimentation Control Each year, thousands of acres of land are disturbed and…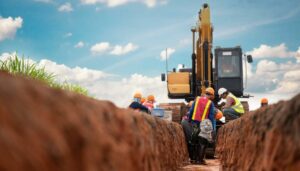 Did you know that only 0.5% of the water on earth is fresh and available for human use? A fraction of that is considered potable water, meaning that it is safe for drinking and consumption. Around the world, millions of people do not have access to potable water. Conserving water has become increasingly important as…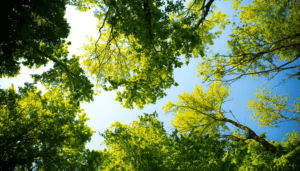 Thanks to all our Green Badger users and project teams, 2022 was our most impactful year yet. We helped 313 project teams collectively save 70,000+ hours on LEED documentation and are expanding our own in-house sustainability efforts as we continue to walk the walk. We continued our collaboration with One Tree Planted to plant 3,130…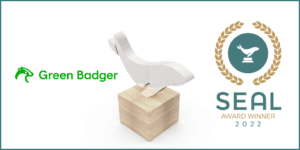 SEAL Awards today announced the winners of the 2022 SEAL Business Sustainability Awards, honoring their leadership, innovation, and commitment to sustainable business practices.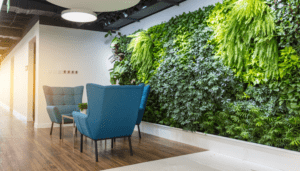 While there is some overlap with the historically industry-leading LEED standard, WELL provides a deep dive into a broader focus on health and well-being.
Sustainability compliance has never been this easy.
Learn more about how you can eliminate the headache of LEED paperwork and streamline construction ESG tracking. Schedule a personal demonstration with one of our LEED gurus to see the impact Green Badger can have on your green building compliance.