SUSTAINABILITY PROFESSIONALS
The platform for sustainability professionals to manage LEED projects in place.
Consultants have multiple projects happening at once. That translates into dozens of BPDO calculators, waste trackers, and low-emitting spreadsheets – but it doesn't have to.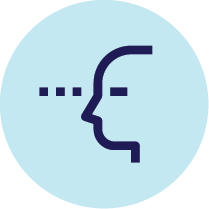 Green Badger provides real-time LEED status for all your projects in one central spot. Instantly check in on all our projects with one swipe.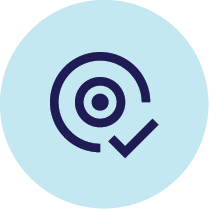 No need to wait for monthly updates. Stay on top of who makes entries, on which credits, and when they are doing it in real-time.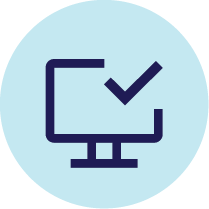 Find documentation for EPDs, HPDs, and VOCs – the exact documentation you need with one click without sifting through 500-page submittals,
See how sustainability professionals are streamlining LEED documentation with Green Badger
1. Real-time project dashboards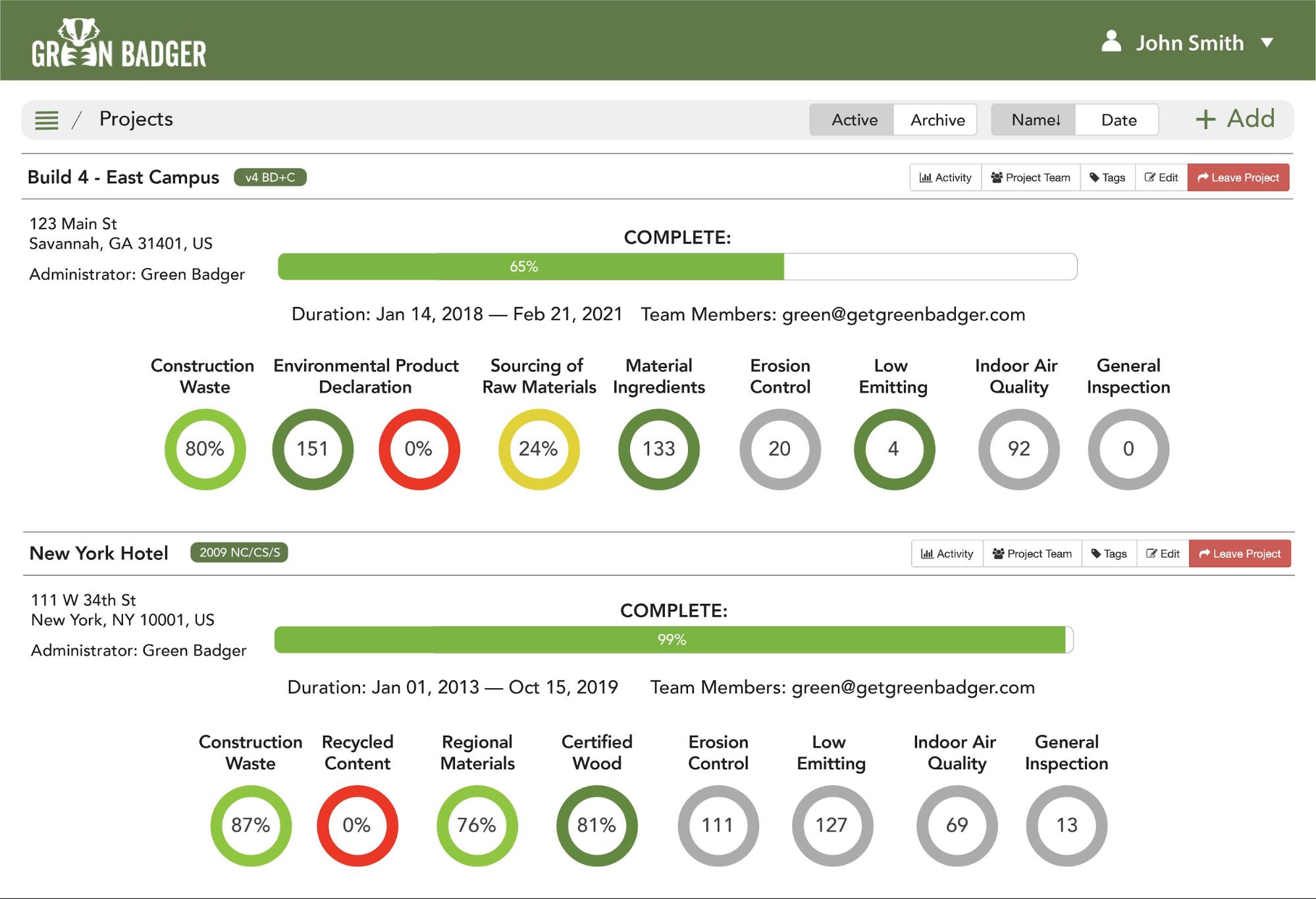 Real-time project dashboards
Green Badger provides real time dashboards with built-in accountability. See all the LEED construction credits in one spot – updated in real-time, to always have your finger on the pulse of the documentation process.
See who is working on which credits to help ensure LEED goals aren't falling off the radar
2. Eliminate clunky tracking spreadsheets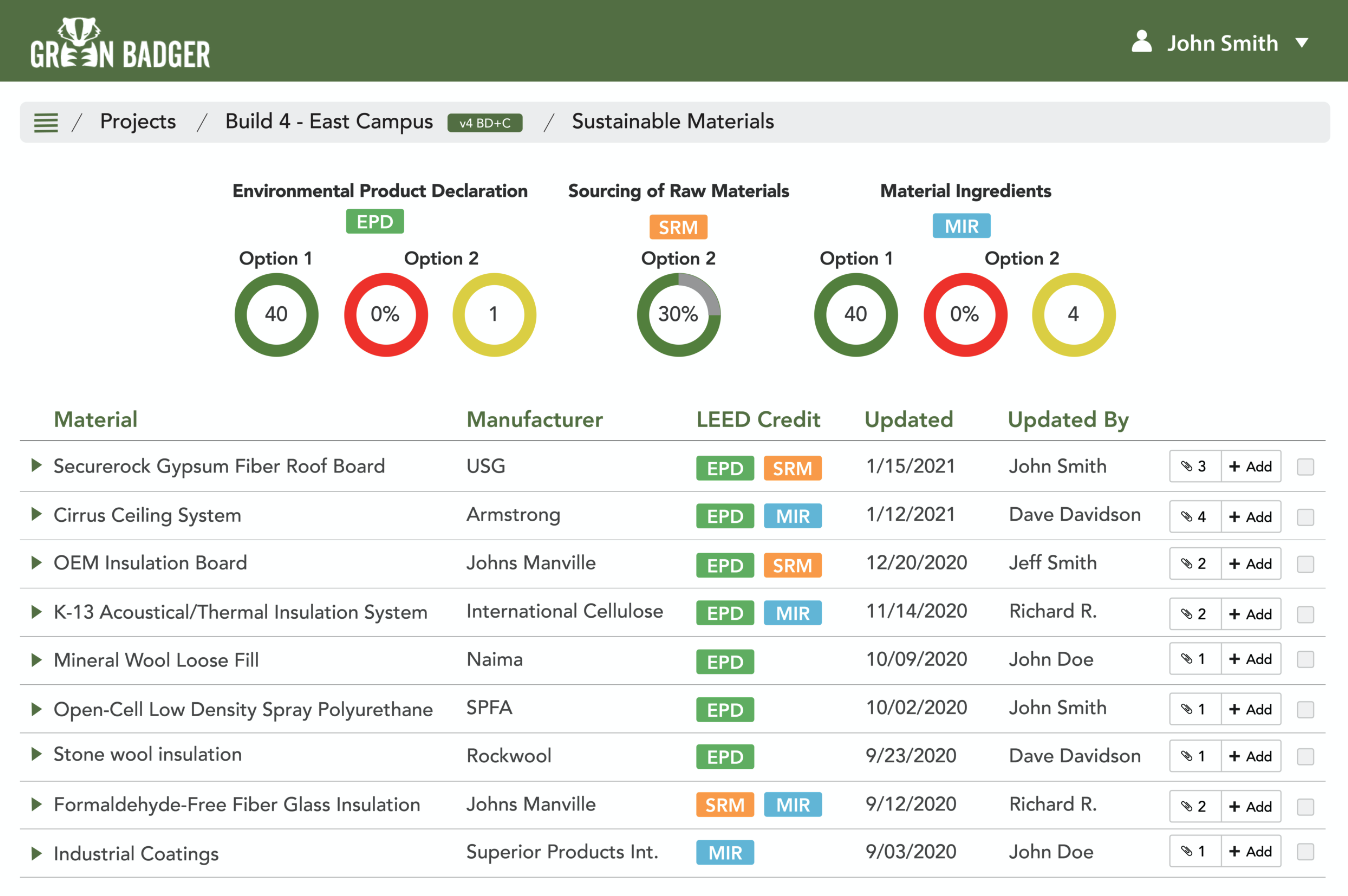 Eliminate clunky tracking spreadsheets
LEED tracking documents and USGBC calculators are clunky, error-prone and it is impossible to to tell what's been updated or changed.
Green Badger's tracking logs lets you see when entries were made, by who, and with all the backup documentation – all in one spot!
3. Instantly document and verify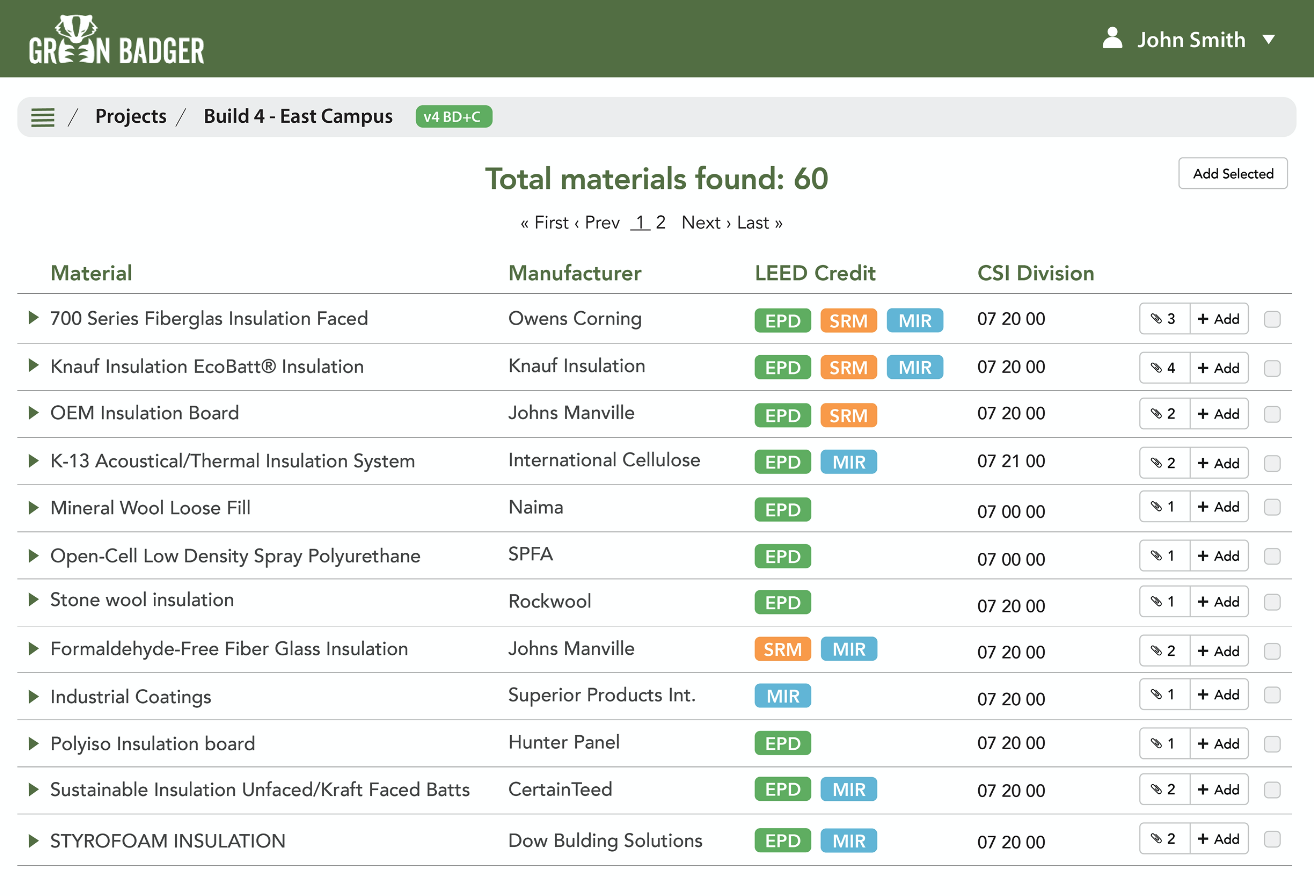 Instantly document and verify
Green Badger's extensive product database provides clean LEED documentation from EPDs to VOCs so you don't have to slog through 500 page submittals to find that one key LEED document. Use the database to source compliant products or to simply ensure correct backup documentation is being submitted for review.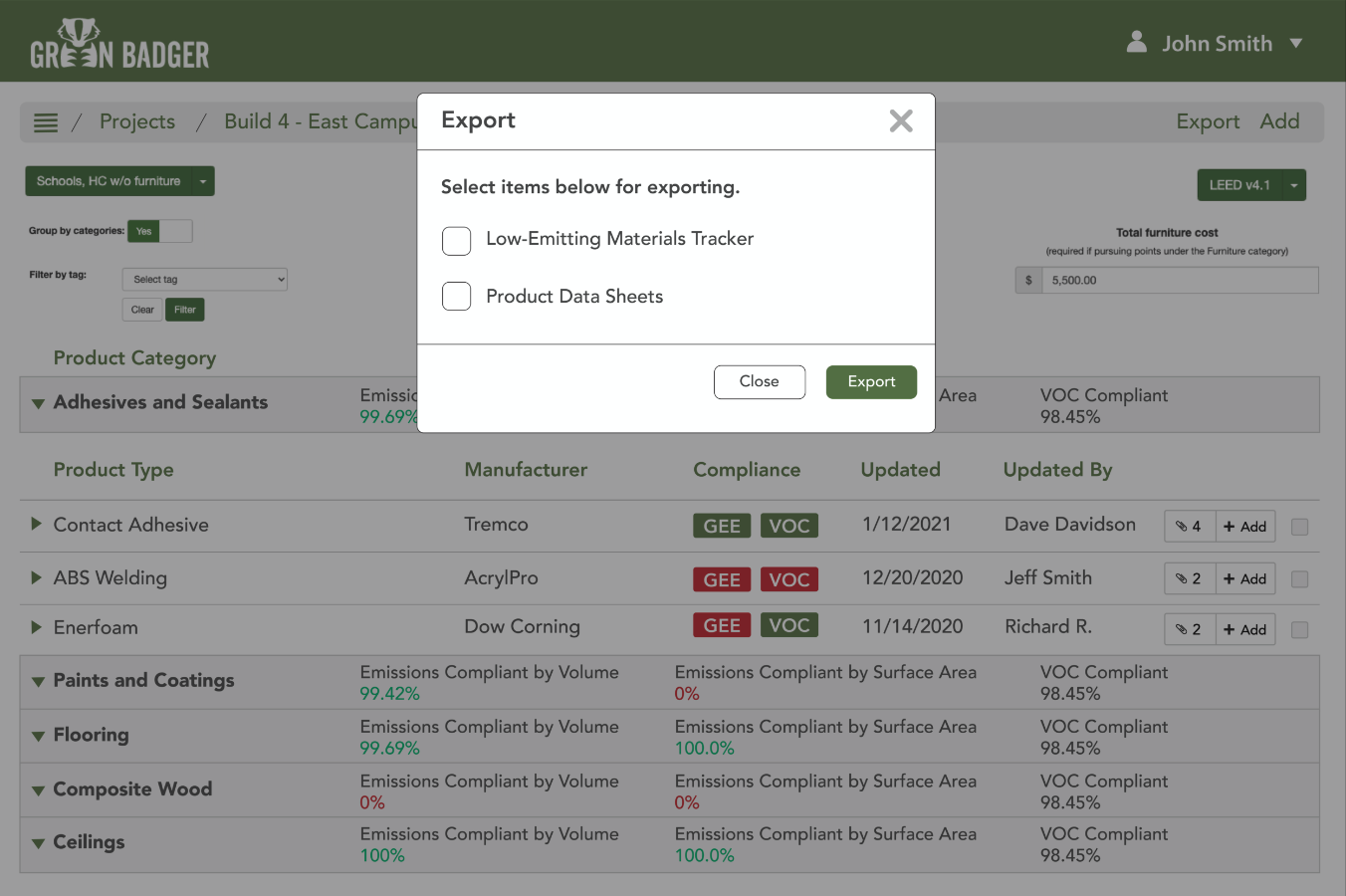 Export to LEED Online
You'll never have to review a 6-tab spreadsheet again – check out each credit-specific log to easily verify entries, review backup documents, and ensure project compliance.
At the end of construction, the team can export prepopulated LEED calculators for a simple upload to LEED Online. LEED construction administration has never been this easy.
Green Badger is trusted by the Top Green Construction Companies
Real-time project dashboard
Manage all your documentation in one place while eliminating piles of receipts, binders of product submittals, and outdated spreadsheets.
Instant product verification
Scan barcodes or search our database for instant access to MSDS, VOC content, and LEED v4 compliant products.
Cloud-based collaboration
Our cloud collaboration lets teams work together seamlessly while easing the burden with personnel changes.
Desktop, mobile, iOS, or Android – our native applications work seamlessly in the office or in the field.
Mobile app allows for real-time creation of IAQ and ESC reports – send a customized PDF from the job site.
In the end, you'll have all of your LEED documentation formatted, packaged, and ready to submit for USGBC certification review.
Watch a Demo of Green Badger's LEED Software
Created for LEED users, by LEED users.
LEED Resources for your Project Team
Sustainability compliance has never been this easy.
Learn more about how you can eliminate the headache of LEED paperwork and streamline construction ESG tracking. Schedule a personal demonstration with one of our LEED gurus to see the impact Green Badger can have on your green building compliance.