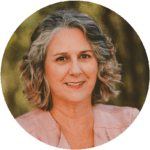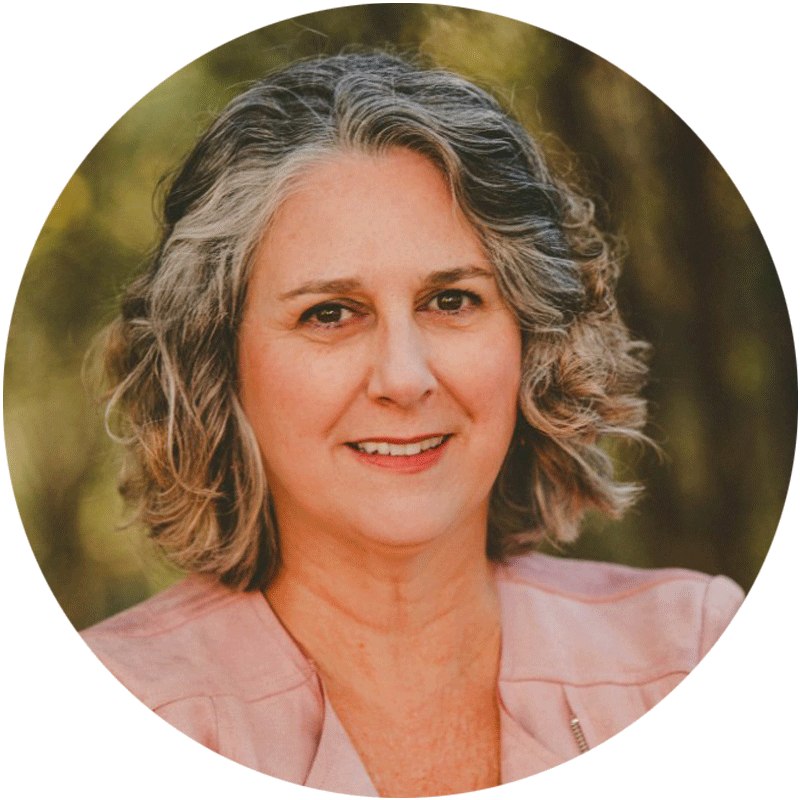 In today's ever-changing business world, the ESG (Environmental, Social, and Governance) framework has become increasingly important. As we pay more attention to ESG, one crucial element stands out: the need to share information about how companies manage their workforce.
This shift is being driven by regulatory bodies like the U.S. Securities and Exchange Commission (SEC), which is expanding reporting requirements, and industry standards such as SASB (Sustainability and Accounting Standard) and framework from the International Integrated Reporting Council (IIRC), which are broadening their measures to include the overall wellbeing of workers.
In this article, we explore established frameworks that address ESG metrics focused on wellbeing. The good news is that the Contractor's Commitment (the health and safety of jobsite workers), LEED (a framework for creating environmentally responsible and resource-efficient buildings), WELL (the health of the occupants), and SITES (the health of the land and surrounding ecosystem) all provide excellent roadmaps for companies wanting to move forward on ESG. Achieving third-party certifications like these signals your company's dedication to human and environmental health and validates your efforts, and we'll help you shorten the learning curve.
Reporting for Health, Safety, and Wellbeing
ESG policies cross over many business departments and companies can choose from many labels to show employees, customers, and financial markets what they are doing to create healthier environments for their people. But how do we get from where we are to where we want to be? In the construction industry, we recommend starting with these two.
The Contractor's Commitment – offering good, better, and best options – gives companies tailored options for individual job sites, focusing on air quality, fitness, mental health, nutrition, and severe weather exposure, as well as any custom measures that are important to an organization.
WELL Building Standard – Health of the Building Occupants and Local Community
The WELL Building Standard charts a path for buildings and organizations to foster a culture that prioritizes human health and wellbeing. It provides guidance on 108 features and 10 concepts that are backed by research. WELL offers a customizable roadmap for organizations or entire communities and can be implemented within individual buildings, across an organization, or even across a portfolio of buildings.
Both programs provide clear metrics and tactics suitable for most companies. Let's take a closer look at a few of them and how your company can take a holistic approach to drive long-term value across all areas of your business.
Tools to Impact KPIs and Achieve ROI
Policies & Operations: Corporate Leadership and Advocacy
The key to transformation lies in corporate leadership and advocacy. Involving C-suite professionals responsible for diversity, sustainability, finance, HR, and more, along with non-executive representatives is critical. Inclusive policies, programs, and educational initiatives demonstrate a company's commitment to health and safety, recognizing the profound impact of physical and social environments, lifestyles, and healthy behaviors. This approach can extend beyond internal efforts to encompass the health and wellbeing of the broader community where the business operates.
Address Diversity, Equity, and Inclusion
Show employees your commitment to health and safety through meaningful policies, programs, and education efforts. The physical and social environment, lifestyle, and healthy behaviors have a bigger impact on health than genetics and access to medical care. With deliberate and careful attention to these areas, companies can greatly influence and improve the wellbeing of employees and communities.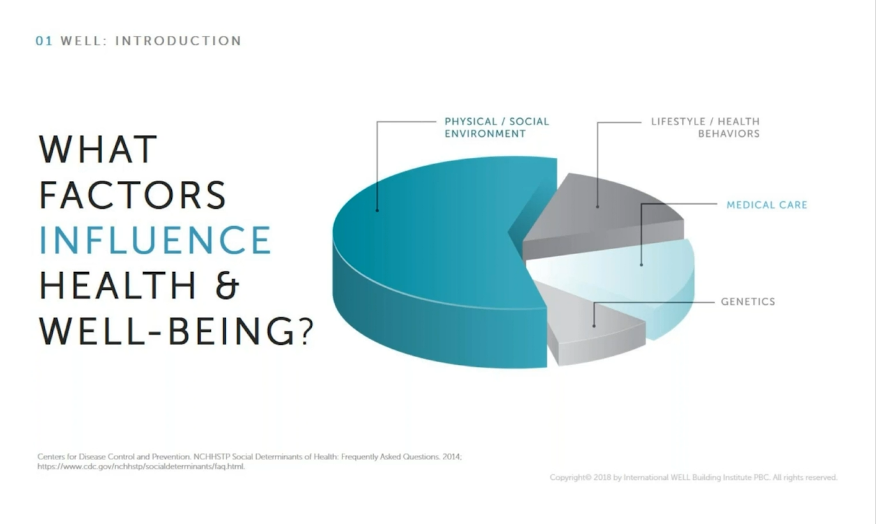 Source: GBES (Green Building Educational Services) webinar: Updates on the Latest Healthy Building Certifications, which referenced Frequently Asked Questions | Social Determinants of Health | NCHHSTP | CDC
Address Wellbeing in Meaningful Ways
Here are several effective programs companies are implementing to provide better work-life balance, prevent burnout, and improve employee health.
Improve health literacy, education, and emergency preparedness
Make available or subsidize health benefits, immunization programs, and substance abuse assistance
Add new parent and family support policies
Increase mental health awareness and stress reduction tools
Add access to nature and create healthy and inviting workspaces that drive productivity and offer employees the social interaction they need for overall health
Include the wider community through civic engagement (volunteering) and providing community spaces
Metrics
Measurement is the key to unlocking the benefits and you will strengthen your ESG impact by tracking and reporting human capital performance.
Workforce attraction and retention can be KPIs along with survey results on employee health improvements like smoking cessation, increase in physical activity, improved dietary choices, and participation in stress reduction activities (meditation, yoga). You also can issue thermal comfort satisfaction and other occupant surveys. And track absenteeism, sick days, and personal days due to disability or illness.
Over time, if tracked consistently, you'll be able to use feedback from these metrics to evaluate program efficiency and improve performance.
Design Strategies
Design interventions come in many shapes and forms and are outlined in the WELL Standard. Air and water quality, lighting design (daylight simulation and glare control), thermal zoning, healthy eating offerings, nutrition education through signage, exposure to nature, fitness opportunities through active furnishings, and ergonomic offerings are just a few.
Education and Behavior Management
Employee education and behavioral change management are ways companies can significantly support employees in reaching health goals. Green Badger's Kristin Brubaker, Customer Acquisition and Education Manager, created a BINGO program to help employees form better habits over a four-week period. Each week she sent out a bingo board with different health and wellness activities related to physical fitness, mental health, nutrition, sleep, hydration, etc. Each activity offers a way to score points, but more importantly, nudges participants toward positive health habits that can last a lifetime.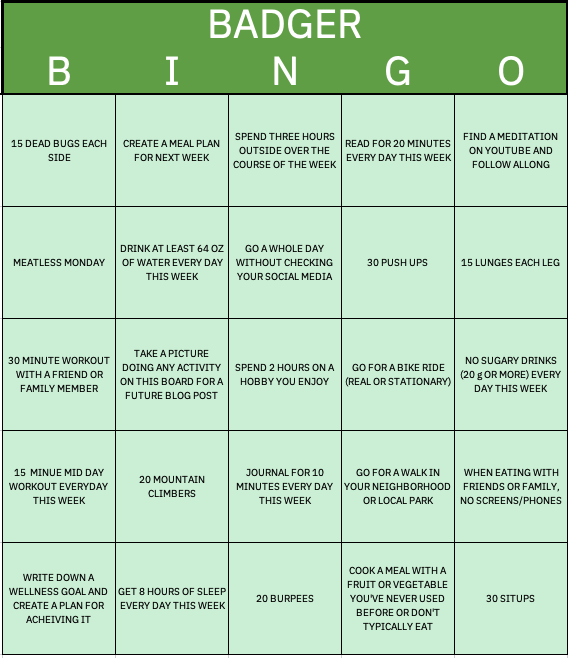 WELL – Flexibility for Different Paths and Budgets
WELL provides an integrated framework of strategies that support the health of individuals within buildings as well as the wider community. It includes many options such as the Health Safety Rating Seal. WELL projects must meet requirements to satisfy a minimum of 15 to 23 measures that are focused on health and safety protocols and policies in areas such as air, sound, mind, and nourishment.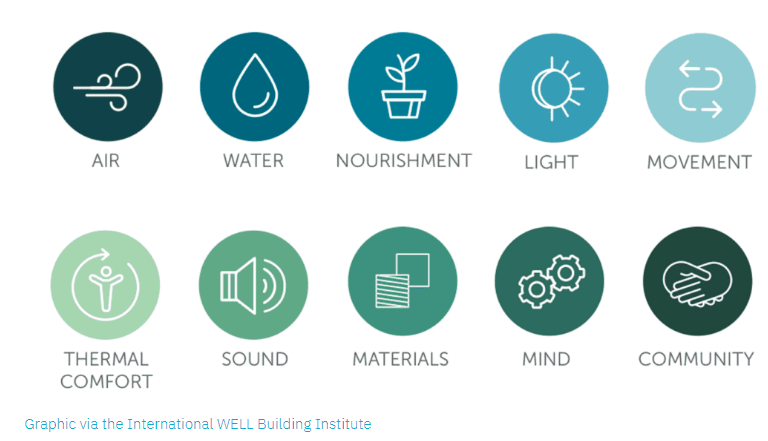 WELL Certification outlines policies, building operations, as well as design and construction interventions that impact the health and wellbeing of the people in a building.
For companies that want to take it to scale, the WELL Portfolio Program offers a subscription-based program and gives a yearly score on a company's entire portfolio. This method is a more cost-effective and efficient way to impact and prioritize health and wellbeing across your entire organization or real estate portfolio at scale.
Suggestions for Getting to Scale
Using the Contractor's Commitment and WELL are great ways to get your house in order now so you can comply with impending regulations and policy requirements, and ensure long-term viability in the marketplace.
Start with the Contractors' Commitment for a good jobsite baseline
Next, get a single site WELL certified or get a few locations certified to the Health Safety Rating Seal.
Once your systems are in place and milestones defined, consider adopting the WELL Portfolio.
Does WELL carry the same weight as LEED with investors?
The COVID pandemic highlighted the need for companies to put the safety, health, and wellbeing of employees at the forefront. And since 2020, WELL has taken center stage along with the need to commit to environmental stewardship.
WELL Tools
Learn how WELL is strengthening investment strategy by driving organizational excellence and supporting ESG performance. https://resources.wellcertified.com/tools/driving-better-investment-decisions/
Understand how the GRESB Real Estate Assessment is supported by the WELL Building Standard: https://resources.wellcertified.com/resources/tools/applying-gresb-and-the-well-building-standard
For general information on WELL visit: IWBI Resource Hub | WELL v2 (wellcertified.com)
Conclusion
A healthy workforce is more productive, better engaged, and more resilient. And measuring employee wellbeing using ESG metrics has taken its place as a significant and rapidly intensifying trend. Propelled by recent global events, this alignment of ESG principles with wellbeing serves as a powerful catalyst for organizational transformation.
Strategic frameworks like the Contractor's Commitment and WELL are key tools companies can use to prepare for anticipated regulations and cultivate a lasting legacy of health, similar to the impact the LEED framework has had in pioneering environmental stewardship.
For organizations committed to achieving excellence in ESG practices, Green Badger's ESG Sustainability Software emerges as a valuable asset. This specialized tool is designed to streamline the collection of ESG data on construction sites, facilitate efficient project tracking, and provide support for the achievement of sustainability goals. To learn more, read our Contractor's Guide To ESG or schedule a free demo of Green Badger's solution.