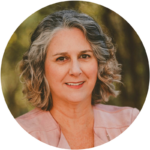 by Lauren Richardson
Sustainability Associate at Green Badger
GBCI Pro Reviewer
Keep Your LEED Reviewers Happy: Expert Guidance
Nothing dampens the mood like 20 pages of comments on your LEED certification review. Making sure your LEED documentation for submission to the GBCI meets all the proper requirements will keep your reviewers happy and can increase credit achievement rates.
This is a recap of tips from our panel of experts including Dave Hubka, Director of Program Development for Rivion, Lauren Rochell Architect / Sr Sustainability Associate for the Center for Maximum Potential Building Systems, and Jill Kurtz, Director of Building Sciences for Page. Collectively, the panelists have certified hundreds of LEED projects. To watch the full webinar, click here.
The panelists from our webinar, Keep Your LEED Reviewers Happy: Expert Guidance, have given us recommendations that will help us create rigor and seamlessness in our LEED process and, in turn, "keep mama happy." Their advice also covers how to keep your documentation consistent, and where the LEED rules fly in the face of logic, how to create a workaround that addresses these issues up front. Simply taking the time to review everything before you submit it, is one of your best tools.
Read on, if you want to learn how to raise the happiness quotient in your LEED process.
Have a LEED Action Plan
Be clear on how you intend to go from scorecard to resolution
Involve key players up front – the owner, architect, GC, and key LEED Project Team members
Assess experience level of team members to decide how much support will be required
Use the action items spreadsheet as a working document and as an agenda for team meetings
Specify products that comply – have conversations with the architect early on
Use Green Badger's LEED v4/v4.1 BPDO Guide to lay out a scripted plan to achieve the harder credits.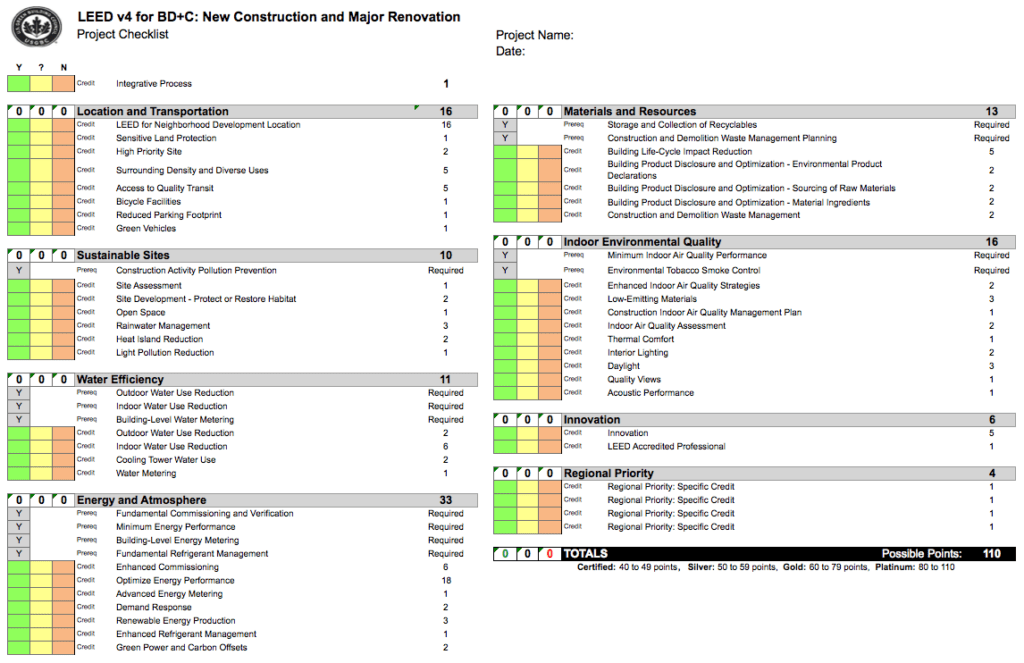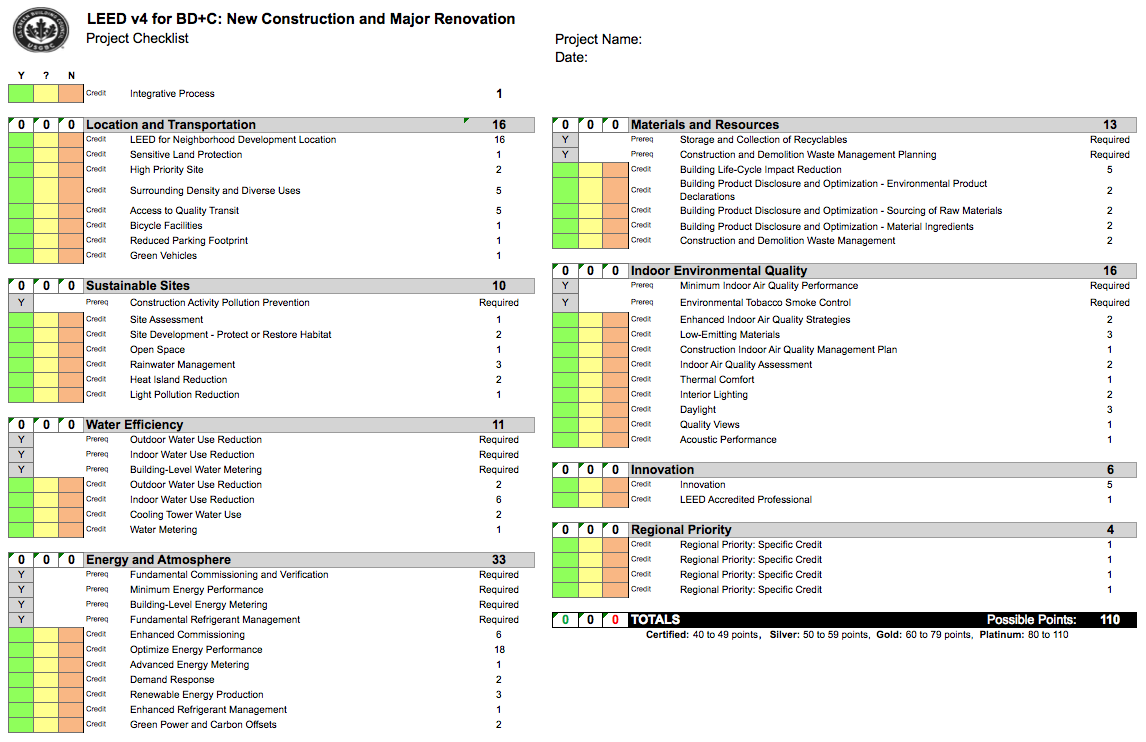 Optimize your LEED Scorecard
Create a 'credit buffer' – submit more than you need
Low Emitting Materials best practice: promote 100% compliant products in specs

Even if you are only going for 3 or 4 categories, you can use Green Badger's database to do quick checks on products and ensure compliance. Better yet, give your subs allowable VOC limits UP FRONT to respect their time and sanity. (link)

Avoid credits that require more time/create more comments from LEED reviewers (if possible)
Get your V4.1 credits up to date (link on how to opt in to LEED v4.1)
Identify Responsibility – By Name!
Set material goals Client Ollie Owner
Set compliant materials Design Izzy Interiors
Specify Materials Design Sally Specifier
Select Compliant Materials Construction Calissa Contractor
Collect documentation Construction Chaz Contractor
Review documentation Design Annabel Architect
Track Construction Cheyenne Contractor
Finalize documentation Construction Genevieve General Contractor

Specifications Best Practices
Keep in mind that subs won't receive or read Div1
Include information in Div 2 (Product Requirements) so that subs are aware of constraints before selecting products

Include product specific LEED requirements like VOC limits and FSC contributions

Be mindful of Masterspec's predetermined language
Keep reference standards up to date with current LEED requirements
Show your GC where they will find LEED Data
Outline what submittal information is needed
Flag sections in a submittal log to show they also have LEED data, so you can track them
Create a LEED Material Matrix for Targeted Specifications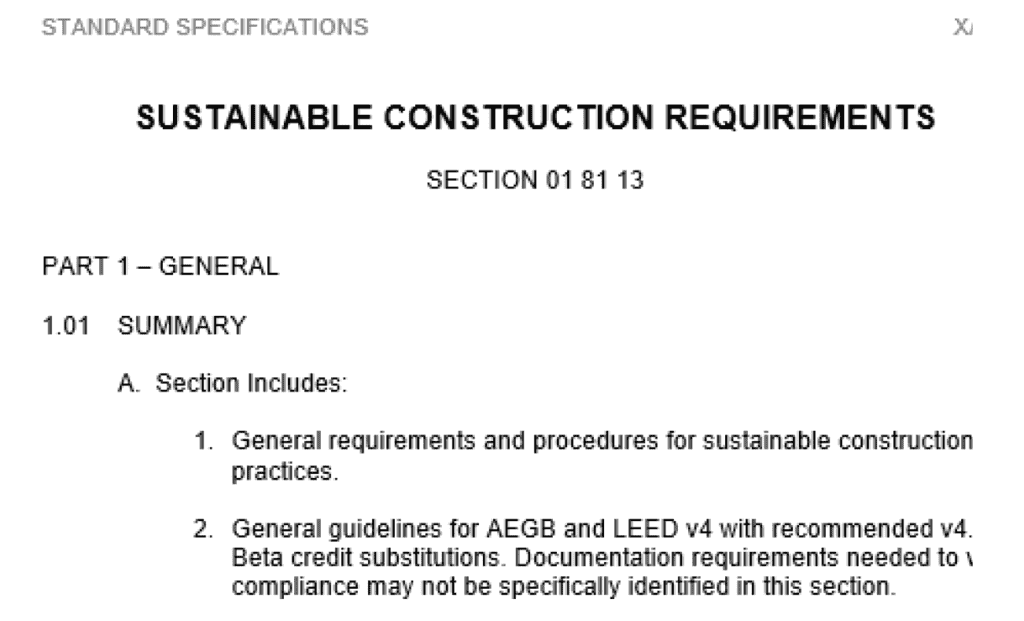 LEED Cover Sheets and Online Tracking Tools
Consider the LEED Cover Sheet a QC for subs

Have subs fill out, consistently and accurately, the Green Badger Cover Sheet, LEED Cover Sheet, Green Data Form, Sustainability Submittal Sheet, or whatever you want to call it

Offer clear expectations around supporting documents with product constraints highlighted
Consider customizing the form to reflect specific credits
Happiness Hint: Green Badger can be used to quickly verify the information presented in the LEED Cover sheet!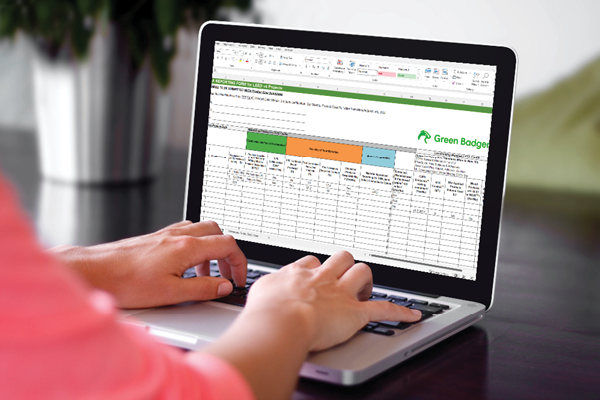 Submittals – Best Practices
Remember design-phase related submittals (plumbing, lighting, solar reflectance, etc)
Include IAQ and CWM plans in submittal review
Use submittals to hold GCs accountable for installing products that comply with Sustainable Materials and Low Emitting Materials requirements
Compile documentation as submittals are reviewed to avoid errors
Happiness Hint: Green Badger's LEED automation software headers can be used to quickly review and compare log entries as well as flag omitting or incomplete items!
Split vs. Combined LEED Review
Choose registration/submission pathway that aligns with project timeline/goals. A split review gives you an opportunity to submit the design credits separately from the construction credits. A split review is recommended in general by our experts, in part for the time buffer it offers. For more thoughts on split review vs. combined, read this.
Times when a combined review might be useful, to avoid holding up the process:
certain credits are taking longer
a particular team member is not ready
you don't have a few pieces of data (for example, you don't have the SRI value for heat island effect)
Educate your team on LEED!
Train your Entire LEED Project Team (PMs, PEs, Interns, etc) AND Your Subs– terms, how to read certifications, how to achieve credits, etc.
Happiness Hint: Gather the team to watch Green Badger Academy. It's only 2.5 hours and will give each team member the confidence they need to manage the LEED process.
LEED Check-ins: LEED Status Report
Make sure to include information on:
Action items?
How project doing?
Status?
Strategy?
Who owes who what?
Issue meeting minutes
Follow through
Communicate, engage, update owners, GC, Project Team
Happiness Hint: Pull data off of Green Badger LEED Automation Platform for quick updates!
Wrapping up for the LEED Review Process
Wrap up design and construction phases before team members move onto new projects.
Review QC to improve on the next project.
Consistency of Reporting – Despite LEED Rules
Maintain consistent file nomenclature
Ensure dates and areas are consistent credit to credit
Explain discrepancies and highlight them in documentation
To avoid the comment "Gross floor area of project reported inconsistently," offer GBCI/LEED Reviewer a list of rooms and their occupied status. Outline how you classified the rooms, and why the numbers won't match.
NOTE: Even if you follow the rules as outlined by GBCI, certain data won't be consistent
Extract and highlight supporting information
Happiness Hint: Use Adobe's Extractor Tool to easily separate only relevant information from the submittal for LEED Reviewers!
Happiness Hint: Get a project license from Green Badger and add products to your projects that already have just the cut sheets
Invest in QA to Streamline QC
Quality Assurance includes the tools and processes that are set up in beginning to prevent problems.
Quality Control is what you do after the fact, how to fix things that got broken along the way.
Happiness Hint: Some LEED construction credits automatically have QA built into them.
The issue is that LEED material credits do not require a QA process. Therefore, you must create your own robust process.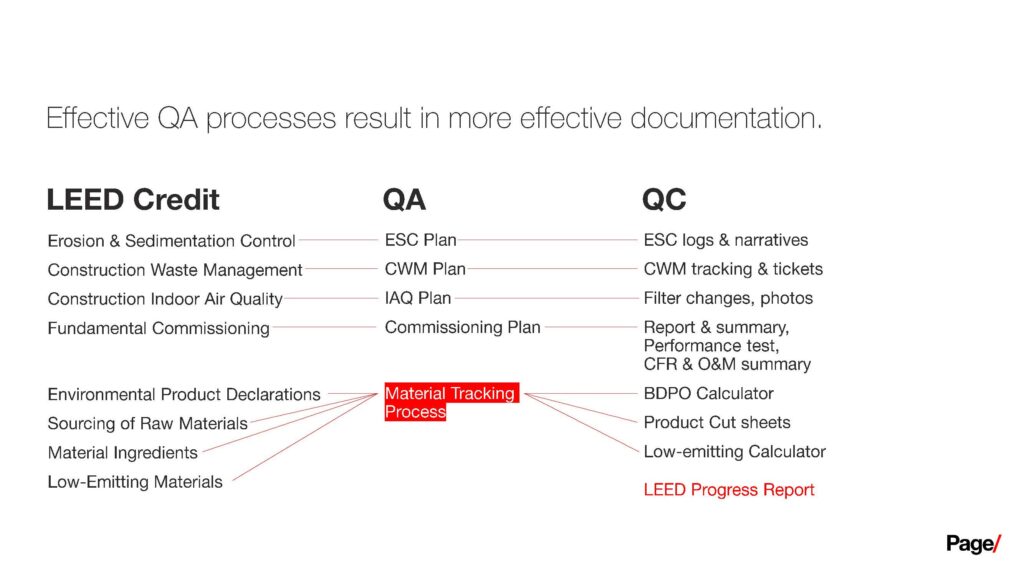 Set up a Robust Process
Resubmitting to LEED Reviewers
Provide review comments (a response narrative) for each credit. The more robust your process, the less you will be resubmitting.

LEED Online
Prepay the design review fee, so as not to hold you up
Perform as many tasks OFF of LEED Online as possible to save time.
Batch uploads one credit at a time
Check v4.1 credit substitutions
Happiness Hint: Green Badger's software allows you to toggle between v4 and v4.1 so you can easily see your thresholds reduced on a credit-by-credit basis!
Preview and set up zip files before uploading (Green Badger automates all this in the export function)
Defer design credits to construction phase
Limit LEED Online users
Happiness Hint: Use Green Badger's platform, which will allow you to export all your LEED documentation in LEED review-ready
Other Tips & Tricks
Use Green Badger's LEED Automation Software, resources, support, and educational offerings
Consider a LEED Coach for extra training
Hire someone who cares about the mission behind LEED and is invested in sustainable building. This will streamline the LEED documentation process faster than any other strategy.
Happiness Hint: Successful projects like the Indeed Tower in Austin Texas, have a robust process in place right from the beginning.
Remember: Intention Requires Rigor
We can view LEED as a nuisance or as a tool to makes design higher performing, healthier, more resilient buildings. Sometimes we forget the point of all this, which is complicated and difficult, yet so important.
For more LEED review tips, check out this post on how effective QA plans result in more effective documentation submittals, this post on how to set up for successful LEED submission to GBCI, or this post on how consistency is key in your LEED Online submission.
Watch the Full Webinar On-Demand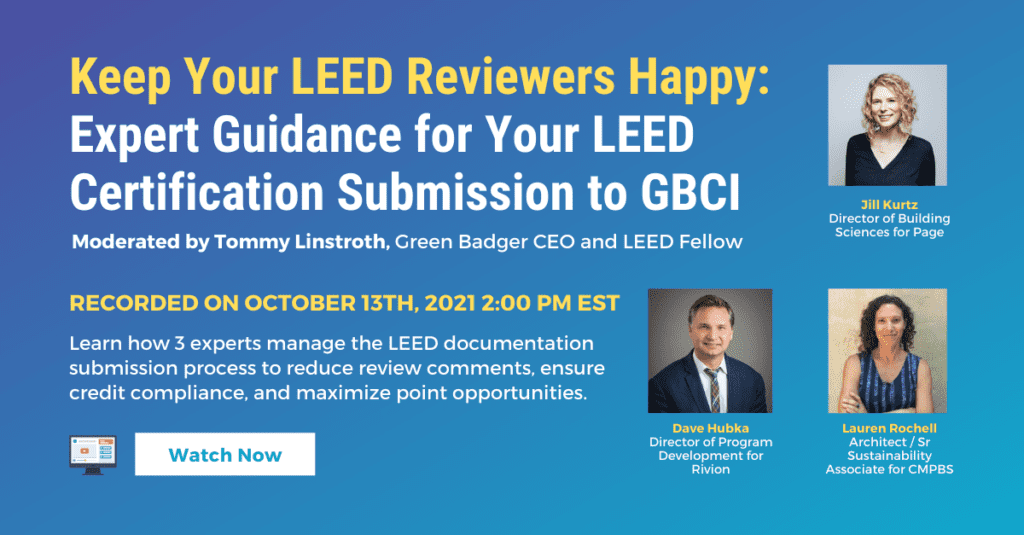 You might also be interested in: