By any measure, the fifth-floor renovation at Jacobs 120 Saint James LEED Gold certified project in Boston, formerly the John Hancock Tower, is an impressive project.
The LEED Gold-certified office, home to more than 200 Jacobs employees, features a 100-percent parking reduction, incorporates more than three dozen products meeting material ingredient reporting requirements, offers an abundance of sunlight and quality views of the historic city, and addresses eight of the 17 United Nations Sustainable Development Goals. With this type of project, designers need a platform to organize the sustainability components before anything goes to the contractors. Everything needs to be in one place.
The renovation at 120 Saint James was achieved on an aggressive nine-month schedule that included design, construction and occupancy. A key piece in this quick and meaningful turnaround on the 49K SF space was the use of Green Badger, a comprehensive solution for equipping project teams of all levels of experience with the tools needed to document LEED as efficiently as possible. Green Badger pairs cloud-based technology with project-specific training, LEED tips and tricks, and ongoing project team support. Jacobs used construction of its office at 120 Saint James as a test case for using Green Badger with its clients.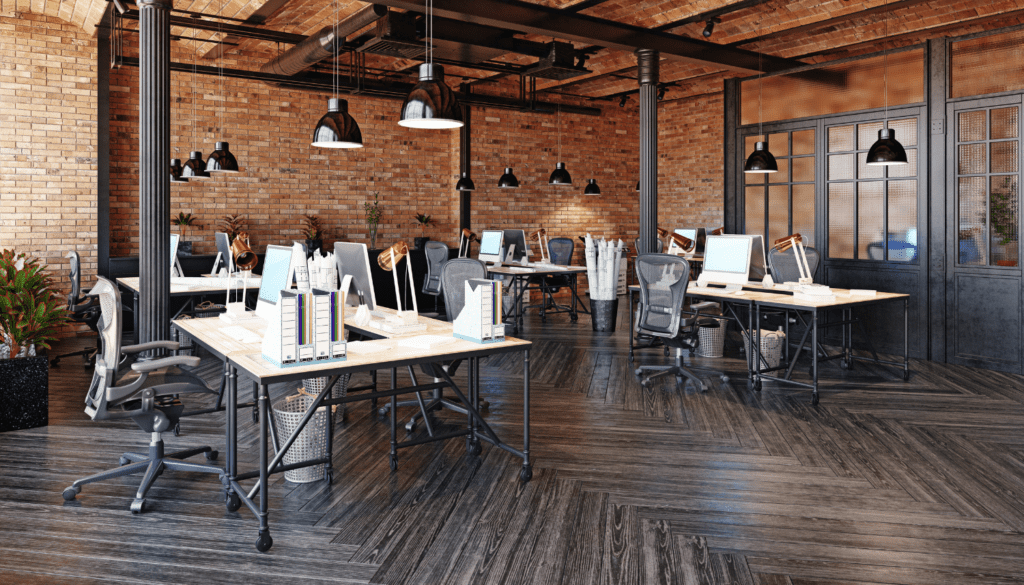 A Good Partnership
The partnership between Jacobs and Green Badger came about because LEED v4, more than LEED v3, is demanding in terms of the upfront selection of products to qualify for various credits.
When Jacobs was looking for options to streamline the LEED documentation process, it found that Green Badger already had what was needed: an expansive LEED-compliant product database, real-time project dashboards, online export packaging, activity tracking and a mobile app. Green Badger's cross-platform, cloud-based solution connects teams so that everyone has access to real-time updates, can document from the field, and automate repetitive and time-consuming tasks – just what Jacobs wanted.
Of the products used at 120 Saint James, 41 met material ingredient reporting requirements, and 38 had Environmental Product Declarations, 28 of which were weighted for LEED. The goal was to install products that complied with stringent low-VOC content and emissions limits prescribed by LEED v4. To that end, 100 percent of the paints, coatings, flooring, and composite wood met both the VOC content and emissions requirements; 97 percent of the furnishings, by cost, met the certification criteria; 100 percent of the adhesives sealants met the VOC content criteria, and 84 percent satisfied the VOC emissions requirements. A few of the products used include Johnsonite Rubber Wall Base, Armstrong Biobased Tile, Formica Plastic Laminate, and Interface Modular Carpet Tile.
In total, the project garnered 63 out of 110 possible LEED points, landing all the points possible in the categories of Integrative Process, Innovation and Design, and Regional Priority. This project came with a twist. While Jacobs has for two decades designed building and tenant spaces for its client, Boston Properties, this time around Jacobs was both tenant and client in a building owned by Boston Properties.
At 120 Saint James, Jacobs addressed eight of the 17 United Nations Sustainable Development Goals: Good Health and Well-Being; Clean Water and Sanitation; Decent Work and Economic Growth; Sustainable Cities and Communities; Responsible Consumption and Production; Climate Action; Life on Land; and Partnerships for the Goals.
A Short Timeline for this LEED Gold Project
On a nine-month timeline in a very competitive market, time is of the essence. And that's where Green Badger saved Jacobs' designers a lot of time.
Green Badger's product libraries allow designers to access the necessary information quickly. There was no need for random searches on the Internet. The more common products used in most green construction projects, and lesser-known emerging products, are in these libraries, so designers don't need to look up every manufacturer separately in an attempt to compile a list from four or five different databases. There's a good chance that what's needed is already in the library, and that's a big time saver.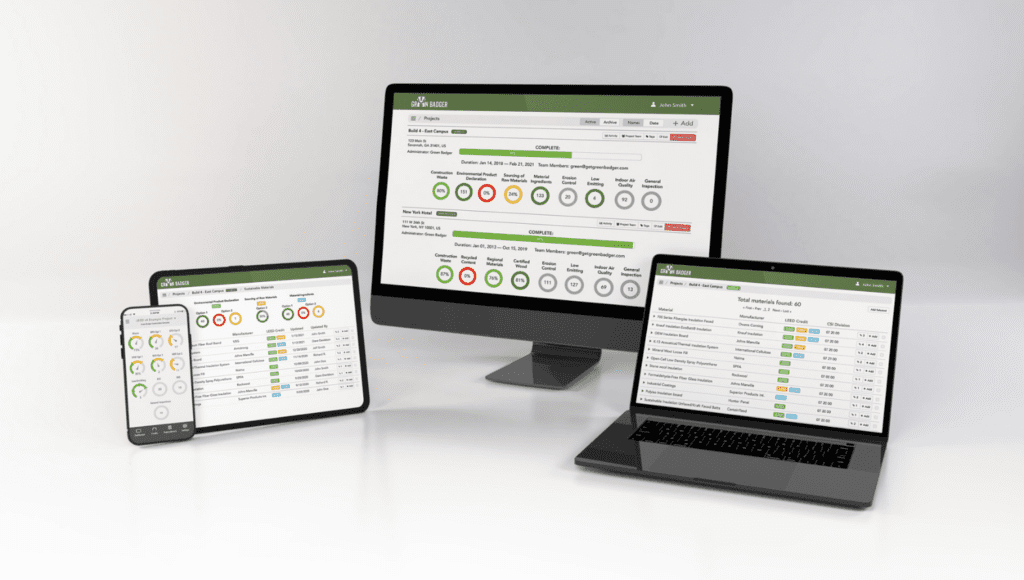 Attention to detail upfront also pays off during the lifecycle of the project, as the frequency and amount of design fees are reduced, which in turn drops the total cost of a project, keeps it on schedule and reduces hazards. And, as a project advances, Green Badger can offer plenty of informed technical support.
When it comes time for the LEED submission, Green Badger has built-in features that make the process easy and efficient, with all the backup documentation in a neat package.
For 120 Saint James, the documentation was substantial. The renovation took into consideration acoustic comfort, active workstations, open workspaces, quality daylight, improved energy efficiencies, singular aesthetics, and lower potable water use. Over 91 percent of the appliances — microwave, refrigerator, and coffee machines — and office equipment — monitors, printers and laptops — are EnergySTAR, lower energy-consumption products.
When assessing 120 Saint James, Jacobs also evaluated the site based on access to public transit, versatility, proximity to amenities, walkability, occupant comfort, and compatibility with the long-term goals of the company. In terms of Location and Transportation, the project claimed 17 of 18 possible LEED points.
User Friendly
When the LEED information needs to be accessed by the contractor, all of the hard work has already been done. A designer can hand a contractor the incredibly complicated data, all of it populated in one place so they can just pull it, read it and carry on with the job.
When comments come back from the viewers, the information can be pinpointed in the system, down to the associated line item, so that comments can be easily digested and appropriate changes efficiently made.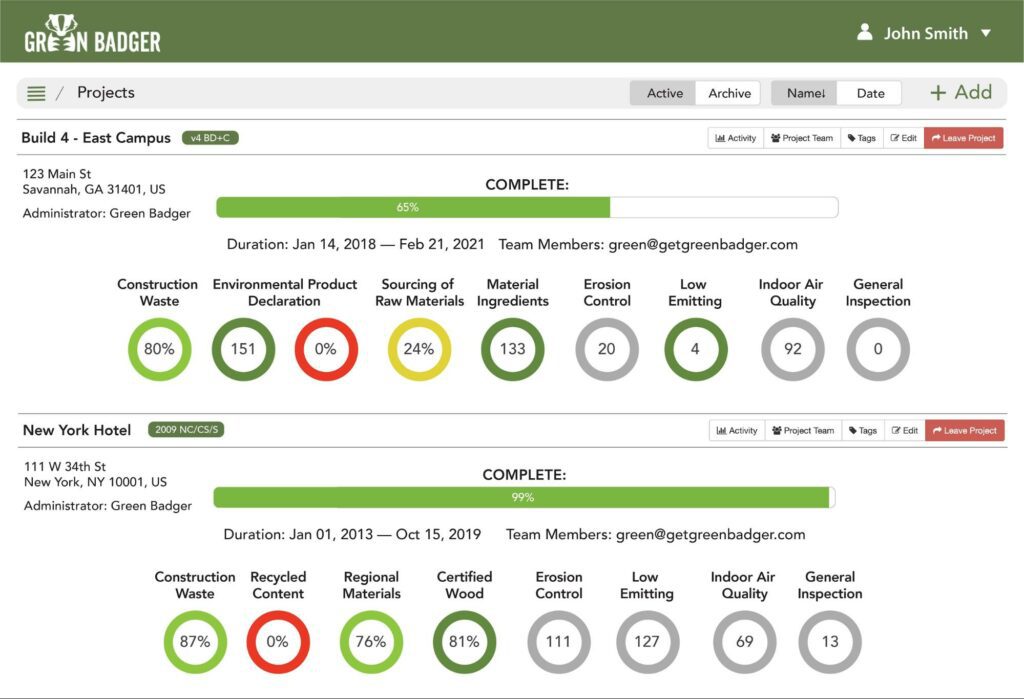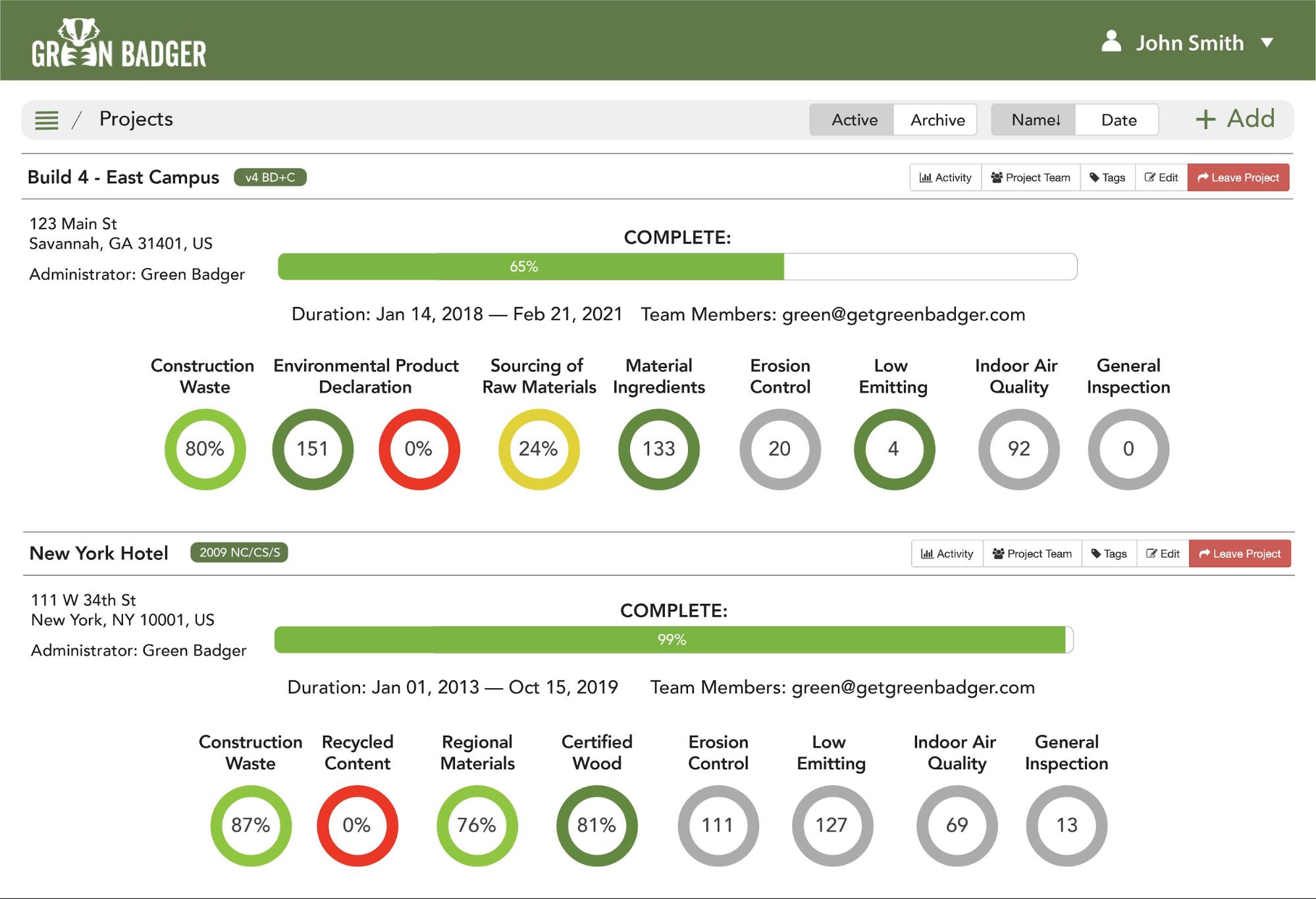 A project like the fifth-floor renovation at 120 Saint James, undertaken in a building that already surpassed comparable structures in terms of energy efficiency and water consumption, needed a reliable platform that could handle the granular details that LEED Gold certification requires, and that could help Jacobs meet its commitment to making positive contributions to the economy, society, and the environment.
Green Badger, with its user-friendly system that makes a complicated job easier and more efficient for designers and contractors, proved that it could handle and disseminate a set of rigorous inputs across a wide array of environmental concerns, and do so over a truncated timeline. For a comprehensive list of Green Badger's LEED resources for project teams, check out this post.