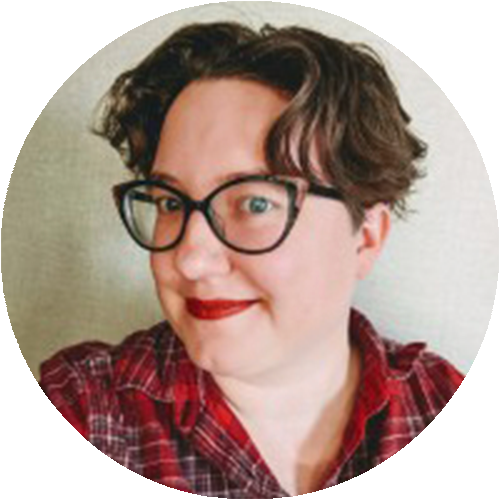 By Emily Purcell
Green Building Specialist at Solomon Cordwell Buenz
Emily Purcell is the Sustainability Specialist in the Chicago headquarters of Solomon Cordwell Buenz. She manages the firm's green and healthy building certifications and supports project teams with everything from green code compliance to sustainable product research.
Five situations when the contractor, subcontractor, architect, or whoever is taking care of a LEED submittal should consultant with their LEED expert.
On a lot of my projects, I'm working on them as the LEED consultant, or the project might have an independent consultant or someone on the owners' side. Regardless, there should be someone on your team who has LEED experience and is the go-to expert when these issues arise. The LEED construction kick-off meeting is an extremely important step in the process and something I do on every project when we enter the construction phase and there's one question I get asked at every one of these meetings.
This is totally understandable – construction is a fast-paced job, there are tight turnarounds, and no one wants LEED to be the obstacle to getting a product purchased and installed. There are a lot of products and manufacturers that we trust and use repeatedly on all types of jobs – they're in our spec for a reason. Or there are product categories where if we miss a LEED product it's not going to make or break the whole credit. What I'm going to talk about are the five situations where we do want the contractor, subcontractor, architect, or whoever is taking care of this submittal to bring the LEED expert into the loop and make sure they get their eyes on it.
Here's are 5 situations where your LEED expert really wants to be a part of the process:

1. Ask your LEED Expert about Product Substitutions:
During design, I'm going to be looking over the specs to make sure that any product called out by name is LEED compliant and will meet the project goals. If that product goes off the market, or the general contractor finds a cost-saving alternative, or there's a subcontractor who has a go-to product and they want to use that instead – I need to take a look at that. If it doesn't match what was in the spec and I don't know what it is, then I want to make sure that it's actually equivalent. Something can match the original spec product in performance and aesthetics, but might not actually be LEED compliant.
2. Ask your LEED Expert about Unspecified Products:
If it's in the specs, I'm going to review it. But if it's not actually called out in the specs then I didn't get that chance yet. If I didn't get to review the product during design, then I need to review it during construction. Here's an example from a recent project where I had to reject a product submittal.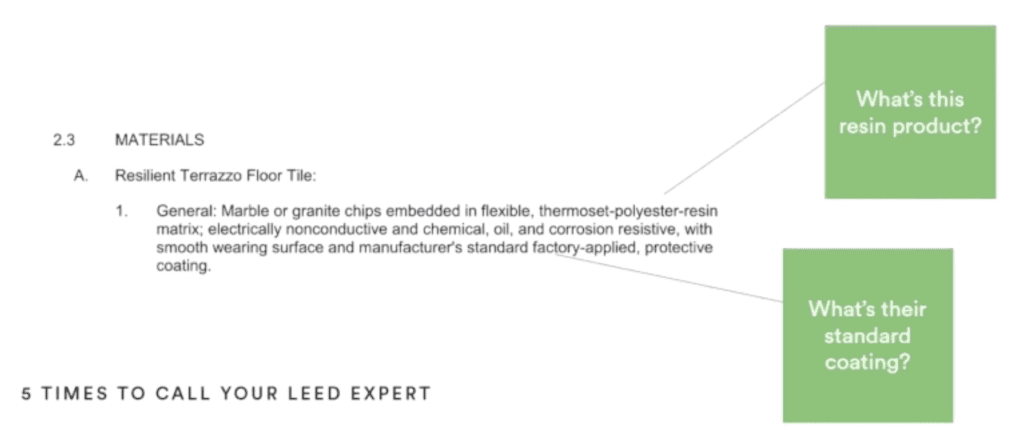 The specs just called for this type of Terrazzo flooring, but the subcontractor was responsible for actually selecting the flooring system and the product. They submitted a flooring system that met the LEED standards, no problem, but they also submitted a sealant product for a topcoat that didn't have the emissions testing we needed so we had to reject that and have them find an alternative.
If the submittal is going to be the first time that the design team sees the manufacturer and product names, that's a situation where your LEED expert needs to take a look.
3. Ask your LEED Expert about Plumbing Fixtures:
Plumbing fixtures will often change often during construction because of product and price changes, and for LEED that can make the difference between earning and not earning certification. Or earning certification at the cost you expect versus the cost of replacing a lot of fixtures. In this example, the design team had specified the fixture on the left, and when I reviewed the fixture package I saw the one on the right.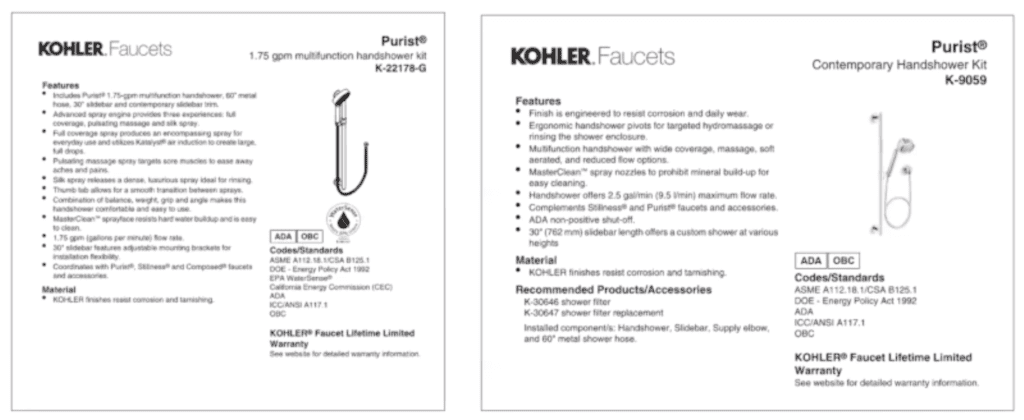 This substitution would have disqualified us from earning a LEED prerequisite. It's the same product line, the same manufacturer, and they look the same, but the one on the right doesn't meet the LEED requirements. This is an example of where 30 seconds of your LEED expert's time can save the team a whole lot of trouble. The same goes for any appliances that use water, like dishwashers and laundry machines – those impact LEED prerequisites. And we often see them changing between when they're initially specified to when they're actually installed. So run these products by your LEED coordinator!
4. Ask your LEED Expert when it seems like the manufacturer is stuck in an old version of LEED:
It's more common than you think! This is an example of a great LEED submittal: it's clear, it states everything I need to know about the product, and it tells me which credits it applies to. I was very happy to get it when I got it, which was on a LEED 2009 project where it was actually applicable. You'd be surprised how often these get submitted on a LEED v4 project. LEED v4 has been around since 2012 and the materials-related credits have changed a lot since then, but not every manufacturer has caught up to the new requirements.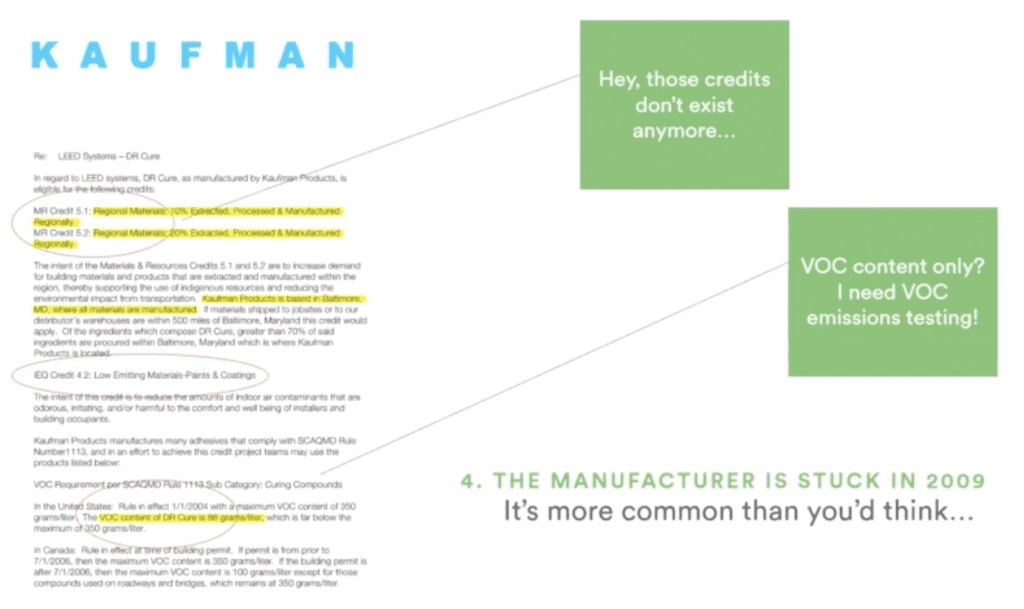 If I get something like this letter submitted on a LEED v4 project, that tells me that the manufacturer or subcontractor have said, "Hey we've got a LEED document!", and they passed it along without understanding what they were passing along and why it doesn't align with what we actually need. This doesn't mean that the product can't be used, but it does mean that we need to do a little more research about it.
A couple of things to look for:
USGBC took away credit numbers in LEED v4 like this MR Credit 5.1. IEQ 4.1 is just called Low Emitting materials now.
LEED v4 also got rid of the separate Regional Materials credits and rolled it into a larger one.
LEED v4 still has a requirement for VOC content, but it added something for VOC emissions. So if you're seeing VOC content expressed in content (gram/liter) only, but not in terms of emissions testing, that's another red flag that its an outdated document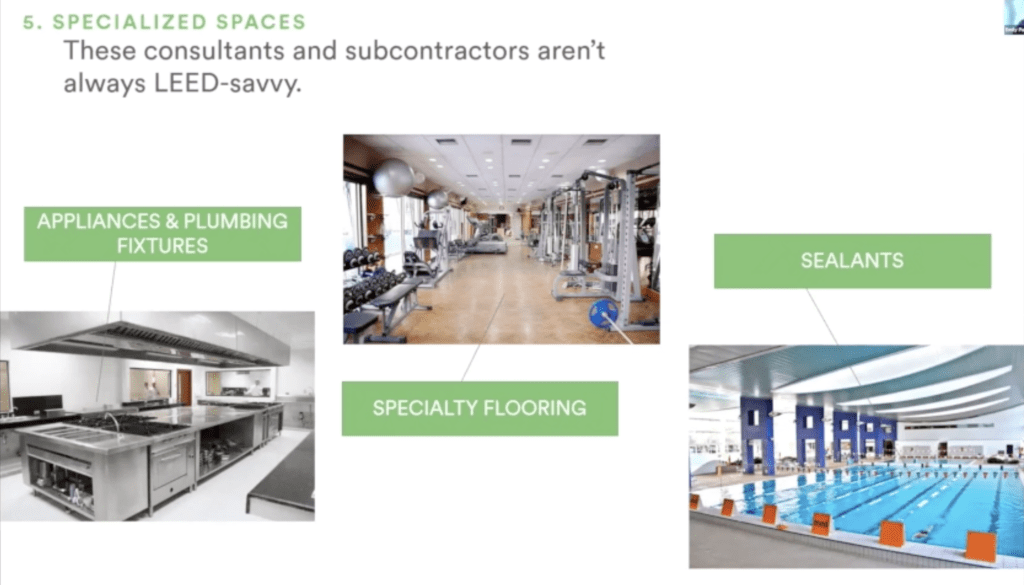 5. Ask your LEED Expert about Specialized Spaces:
Specialized consultants aren't always LEED-savvy. They might not work on many LEED projects, they probably aren't invited to LEED meetings, and they just don't work with the LEED process as much as other members of the design team so they won't always know what to be looking for in a submittal package. Does your foodservice designer know how LEED is going to affect their dishwashing equipment? If you've got a specialized fitness center consultant laying out a gym do they know which standards the flooring needs to meet? If one of these specialized consultants is doing the cut sheets, I'd like the chance to support them and make sure we're catching anything that needs to be caught for our LEED submittals.
This post is an excerpt from a recent webinar hosted by Green Badger. We encourage you to view the entire on-demand webinar on Nailing Your LEED Submittals where our distinguished panel of sustainability experts including Emily Moody (Sustainability Director, Certifications & Compliance for Jacobs), Emily Purcell (Green Building Specialist for Solomon Cordwell Buenz, of Chicago), and Garrett Ferguson (Sustainable Building Advisor at Perkins&Will) offer a host of practical tips for managing the LEED submittal process. For an overview of the webinar, check out this blog post.
You might also like: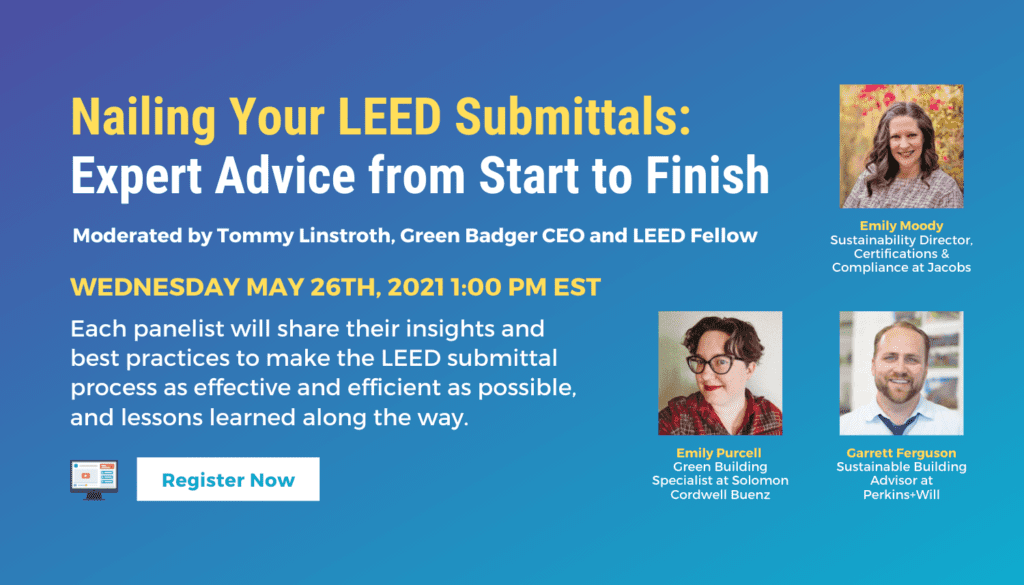 Nailing your LEED Submittals: On-Demand Webinar
Each panelist shares their insights and best practices to make the LEED submittal process as effective and efficient as possible, and lessons learned along the way.
Addressing the LEED learning curve: do you speak LEED submittal?
Get expert advice and tips to help address the LEED learning curve of starting your first LEED project and managing the submittal process.
LEED Submittal Review Process: An Overview
What are LEED submittals and how is the LEED submittal review process managed? Get practical tips for managing the LEED submittal process on your project.