LEED Reporting with Green Badger
While it's easy for the team to stay up to date with Green Badger's real-time dashboards, we know that a lot of projects require monthly LEED reporting as a part of payups or just a part of monthly documentation.
That's why Green Badger released a new feature in February 2021 that allows project teams to export a summary of their LEED construction credits into a one-page PDF report. This allows projects teams to send easy monthly updates to owners, project team members, architects, or anyone else on the team that needs an update.
From construction waste to indoor air quality, all of your credit statuses are rolled up into one neat report that allows for easy review of LEED credit progress. Everything is color-coded so that you can see at a glance whether your team is earning 1 point, 2 points, or 3 points (exemplary performance points) for each credit. Under your credit statuses, you can view an activity report log showing all the recent contributions to the projects and which user made the updates. This allows the team to stay on track and communicate frequently if any issues arise that need to be addressed in a timely manner.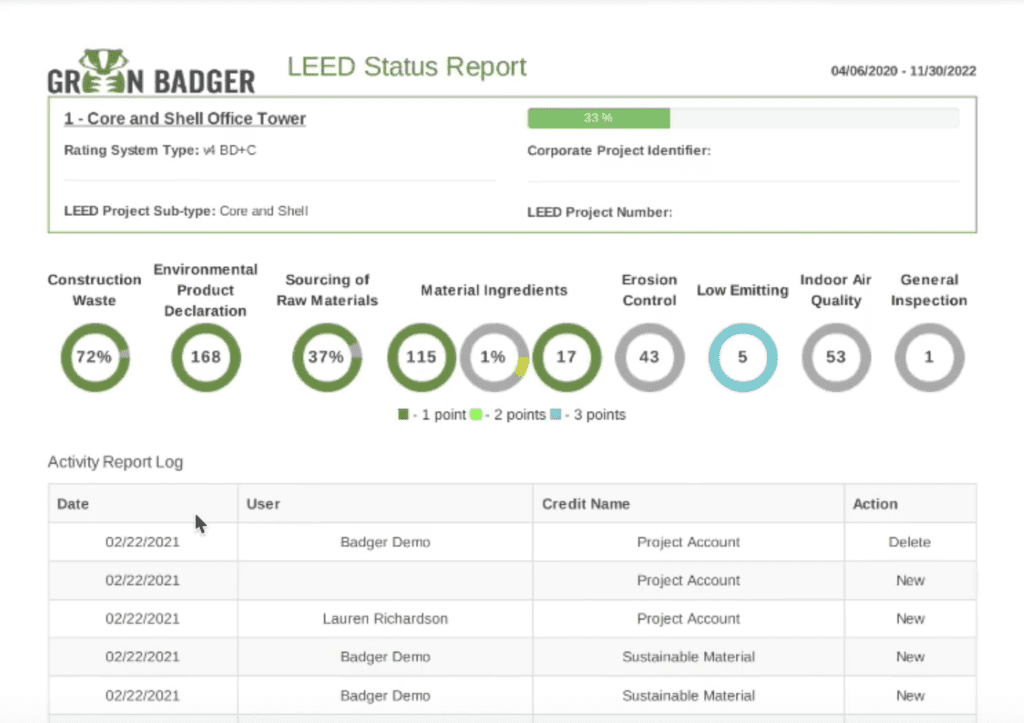 With Green Badger it's now as easy as one, two, three to have LEED reporting:
Within the Green Badger web application, click the download button in your project team header. This will generate a one-page PDF LEED summary report with all the relevant LEED credits on your project.
Download and save the report to your computer.
Email the LEED summary report to your project team or submit it with your payup and you're good to go!
With Green Badger, LEED documentation has never been easier!