In case you missed Greenbuild 2022, here is our recap of popular session topics, key takeaways, and notes for 2023.
With a 72% increase in attendance, Greenbuild 2022 took place at the LEED Gold Moscone Center in beautiful San Francisco, California. Moreover, attendees had access to almost 200 education sessions and over 400 speakers. The inspirational keynotes, Academy Award-winning actress Jane Fonda and Dr. Jean Rogers, Global Head of ESG at Blackstone, shed light on an entirely new perspective on what it means to be green.
Expectedly, Greenbuild 2022 focused heavily on recycling and reusing. What's more, the International Wood-Based Construction Conference (IBWCC) partnered with Greenbuild to bring in 50 new exhibitors. These exhibitors presented 15 unique sessions on modular construction and mass timber.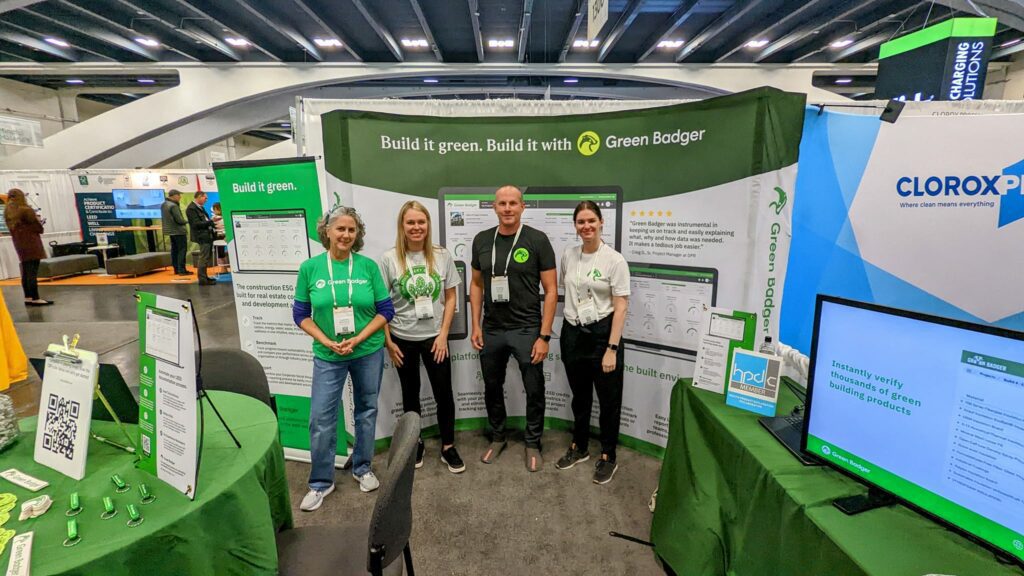 Greenbuild 2022 Recap of Sessions
If you missed Greenbuild 2022, no worries! We've compiled a list of this years key session topics. There was a large emphasis on ESG, governmental policies, material alternatives, decarbonization, WELL, among many more. There was a broad range of programming, experiences, and speakers this year. Additionally, session recordings will be made available through Swapcard for conference badge holders starting 12/1 to get your CEU hours. But, in the meantime, here's what you missed…
Communities and sustainable cities
Human Resiliency in Green Building – quality of life
Nature based solutions key to resilient city infrastructure
Sustainable Housing
Benchmarking for Health within Multifamily Residential Assets
Creating a Carbon Copy: What Batik Can Teach Us About Replicating High-performing, Multifamily Design at a Market Rate
Four Trends That Are Shaping Green Affordable Housing
ESG
Equity Outlook: Perspectives Across the Career Spectrum
ESG, and Sustainable Finance: New Opportunities
Fulfilling ESG and Climate Commitments with LEED for Communities
Measuring Impact: What is the Value of Your Green Building?
Indoor Air Quality
How Good Is Your Ventilation? Indoor Air Quality and the Passenger Experience Within Airports
Renewable Energy
How Toyota's Trigeneration Renewable Energy Project is Helping the Port of Long Beach Meet Sustainability Goals
Equitable Electrification: As We Move into Our Fossil-fuel-free Future, How Can We Ensure Everyone Benefits?
Decarbonization
Decarbonization of Existing Commercial Buildings in Pursuit of Net Zero Carbon Climate Goals
Decarbonizing Environments Through Design
Local Government Leadership in Decarbonization and Climate Resilience from Southern California
How to make existing building energy codes the decarbonization gamechanger we need right now in the climate fight
An Ambitious Path to Net Zero: How California's SB-596 Will Set a Foundation for Green Cement Within the Decade
Cutting Edge Carbon: Building Collaborations for Innovation and Urgent Action on the Climate Emergency
Electrification, Decarbonization and LEED
Social equity
Exploring Pathways to Equity in the Built Environment
New products and services
Ways to use technology to track our progress
Meta's Road to Net Zero: How Artificial Intelligence Can Be Leveraged by Project Teams to Scale Use of Low Carbon Concrete
Microgrids: The Solution to Many Different Problems
Power Shift: Designing Adobe North Tower for a Changing Grid
Policy and Sustainability Platforms
Sustainable Portfolio's & LEED Volume: How to Achieve Sustainable Design and Construction Goals at Scale
Overview of LEED: Current and Future Rating Systems
Mandatory green building code
From Policy to Impact: Driving Positive Change at the State and Local Leve
Innovation – coal-burning powerplant reinvented as a low-carbon student center
Materials
Engineering – natural materials
The Future of 'Sustainable' Materials
Raising the bar for healthy materials, lowering carbon
Eliminating toxic materials from construction
Healthy flooring material options
Multi-attribute – Cradle to Cradle
Forging a Truly Circular Economy for Toxic C&D Materials
Looking for some actionable resources to put into use after Greenbuild 2022?
As you know, Green Badger is always putting out new resources to help project teams succeed at LEED documentation and sustainable construction. Green Badger recently partnered with Building Transparency for a free, introductory webinar to the EC3 calculator and embodied carbon. This will help project teams get started – what to look for, how to best evaluate low-carbon options, and how to begin evaluating their buildings. You can watch the webinar on-demand here.
Additionally, Green Badger also released a quarterly ebook update called LEED v4.1 EPD and MIR Option 2 Product Guide that you can access for free. Currently, there aren't a lot of products that comply with BPDO Option 2 optimization requirements. In order to keep your team in the loop, we'll be releasing quarterly updates when new products hit the market.
About Green Badger's Product Database
Additionally, Green Badger users can now search by LEED BPDO Option 2 credit compliance in our green product and materials database to quickly see which products comply to earn each credit. This new search functionality within Green Badger's product database makes it super easy to identify products that have optimization documents. When you come in and search, use the advanced search option and select EPD 2 or MIR 2. Press 'search' and you'll see all the products that comply!
Lastly, Green Badger will be at Greenbuild 2023 next September 26-29 in Washington D.C. so mark your calendars! What do you think the big topics of discussion will be next year? Was there anything you think was missing from this years event if you did attend? Let us know in the comments!