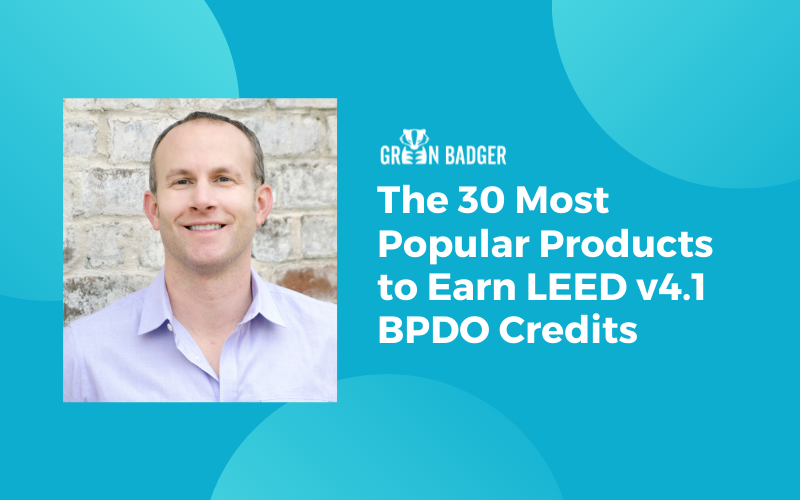 The 30 Most Popular Products to Earn v4.1 BPDO Credits
With tens of thousands of construction products and materials available to choose from, which options should you choose? Green Badger's software aggregated hundreds of real-life LEED v4 and v4.1 products used to earn the various BPDO credits and is presenting the top 30 most popular products! For a preview of the guidance offered in this webinar, check out our blog post on Top 10 LEED Products for Earning BPDO Credits in LEED v4.1.
Access the webinar to get Green Badger's expert guidance
Watch a Preview of the BPDO Credits Webinar
The Top 30 LEED Products webinar was recorded on July 21st, 2021, and hosted by Green Badger's Founder and LEED Guru, Tommy Linstroth. Watch a preview of the webinar and then access the full video recording to save and watch whenever and wherever you want.
Learning Objectives:
Identify what product categories to focus on to earn BPDO credits
Understand the credit requirements for all BPDO credits
Know what product options are commonly used to earn BPDO credits.
Develop an early roadmap to ensure BPDO credit compliance.
This session provides a roadmap for project teams to create their own pathways towards nailing the BPDO credits.
Don't have time to do research to find LEED products by yourself? Just do what everyone else is doing to earn the environmental product declaration, sourcing of raw materials, and material ingredient credits in LEED v4 and v4.1 and you'll be set! Project teams can be overwhelmed by choices, and spend hundreds of hours researching products and compliance opportunities. Attendees will come away with a proven package of products to jumpstart their path to earning these LEED credits.
From rebar to roofing, learn which brands and products are found on LEED projects to contribute to earning environmental product declarations, sourcing of raw materials, and material ingredient reporting.
We work with the Top General Contractors in the country.