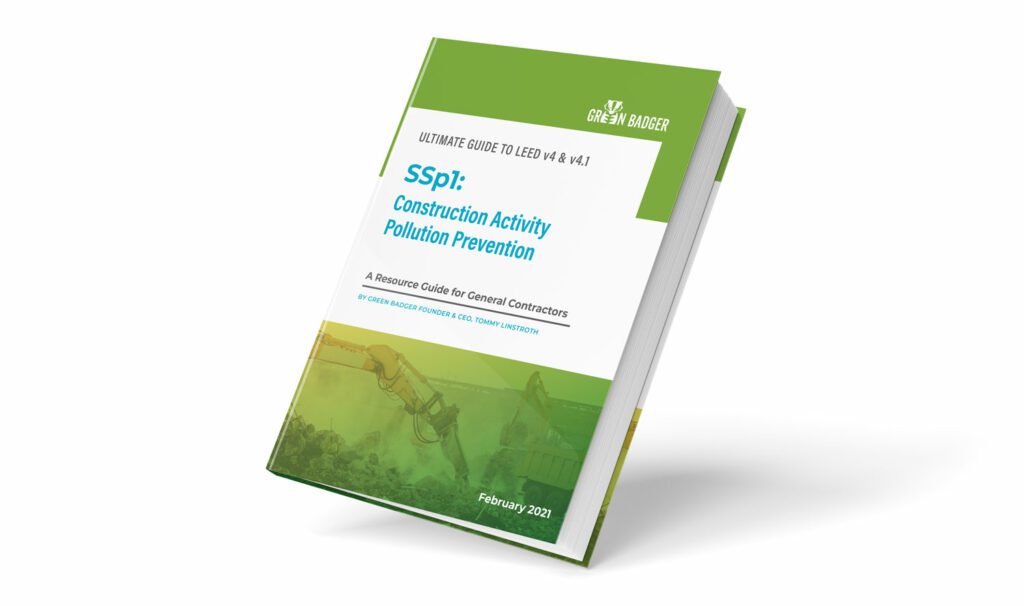 SSp1: Construction Activity Pollution Prevention
Construction Activity Pollution Prevention is known by many names (construction activity pollution prevention being the least common). SSp1, Erosion control, SWPPP - they all amount to the same thing. Erosion control measures are pretty much required on most projects anyway, so just make sure you have your silt fence up, keep it functioning, and you'll be in good shape!
Download the SSp1 eBook to get all the LEED requirements, strategies, and best practices to achieve SSp1 Construction Activity Pollution Prevention.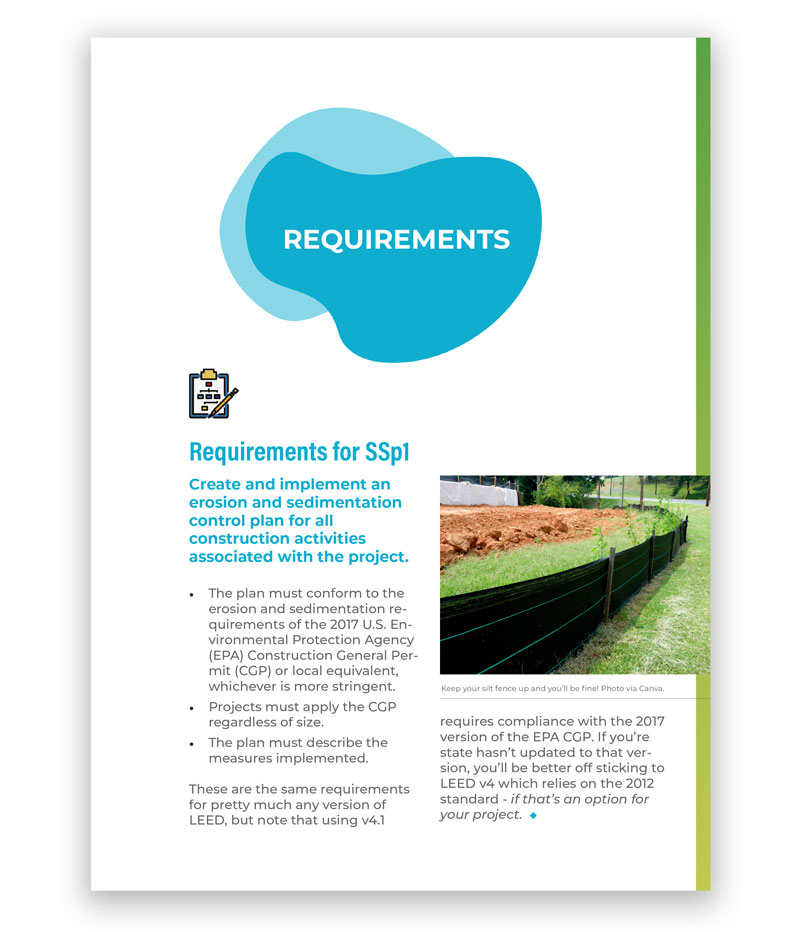 Requirements for SSp1 in LEED v4 and v4.1
Project teams are required to create and implement an erosion and sedimentation control plan for all construction activities associated with the project.
The plan must conform to the erosion and sedimentation requirements of the 2017 U.S. Environmental Protection Agency (EPA) Construction General Permit (CGP) or local equivalent, whichever is more stringent.
Projects must apply the CGP regardless of size.
The plan must describe the measures implemented.
These are the same requirements for pretty much any version of LEED, but note that using v4.1 requires compliance with the 2017 version of the EPA CGP - if your state hasn't updated to that version, you'll be better off sticking to LEED v4 which relies on the 2012 standard - if that's an option for your project.
Download the SSp1 eBook to get Actionable Strategies + Best Practices for Construction Activity Pollution Prevention
If you're looking for credit guidance for all the LEED construction credits you'll be tasked with, check out our Ultimate Guide to LEED Construction. It's filled with advice and resources to help your team succeed at LEED.

First and foremost, don't forget that this is the only construction-related prerequisite, meaning you have to achieve this or the project cannot earn certification, regardless of how many points get tallied. So don't mess this one up!
Another important note: This is required regardless of the size of your project. Under an acre? Still need it. Zero lot line? Same. Project teams have a choice: to use the EPA CGP or local standard. Now, I'm not a state by state erosion control expert, so you'll have to defer to your civil engineer or other team member to determine which standard is more stringent, and then make sure to use that version.
The whole intent of this prerequisite is to reduce pollution from construction activities by controlling soil erosion, waterway sedimentation, and airborne dust. That means keep the dirt from your site on site, don't let stuff trickle into waterways or sewers, and keep dust from flying off site in the breeze.