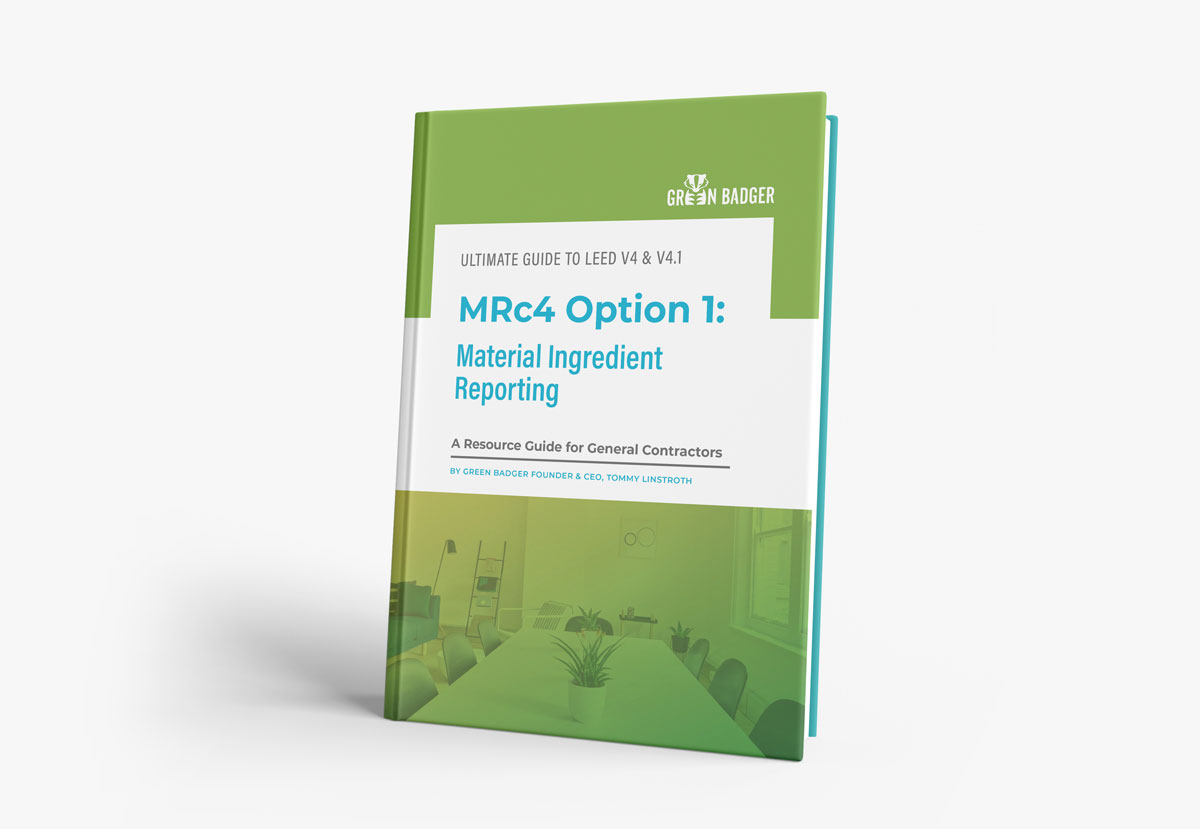 MRc4 Option 1: Material Ingredient Reporting
Have you ever wondered what's really inside some of those products you are using inside of your building? No? Me neither! But hey, someone smarter than me decided that you should be informed of what exactly is hanging on your walls or under your feet, and that is what this credit is all about. This credit is going to sound a lot like Green Badger's guidance on EPDs.
Most products still don't have documentation to comply with this credit. In fact, prescreened/verified for LEED products total less than 3,000. These are predominantly Health Product Declarations, but both Cradle to Cradle and Declare Labels are growing in popularity as well.
Download the MRc4 Option 1: Material Ingredient Reporting eBook
Access the LEED MRc4 Option 1 Ebook to get Actionable Strategies and Best Practices for Material Ingredient Reporting.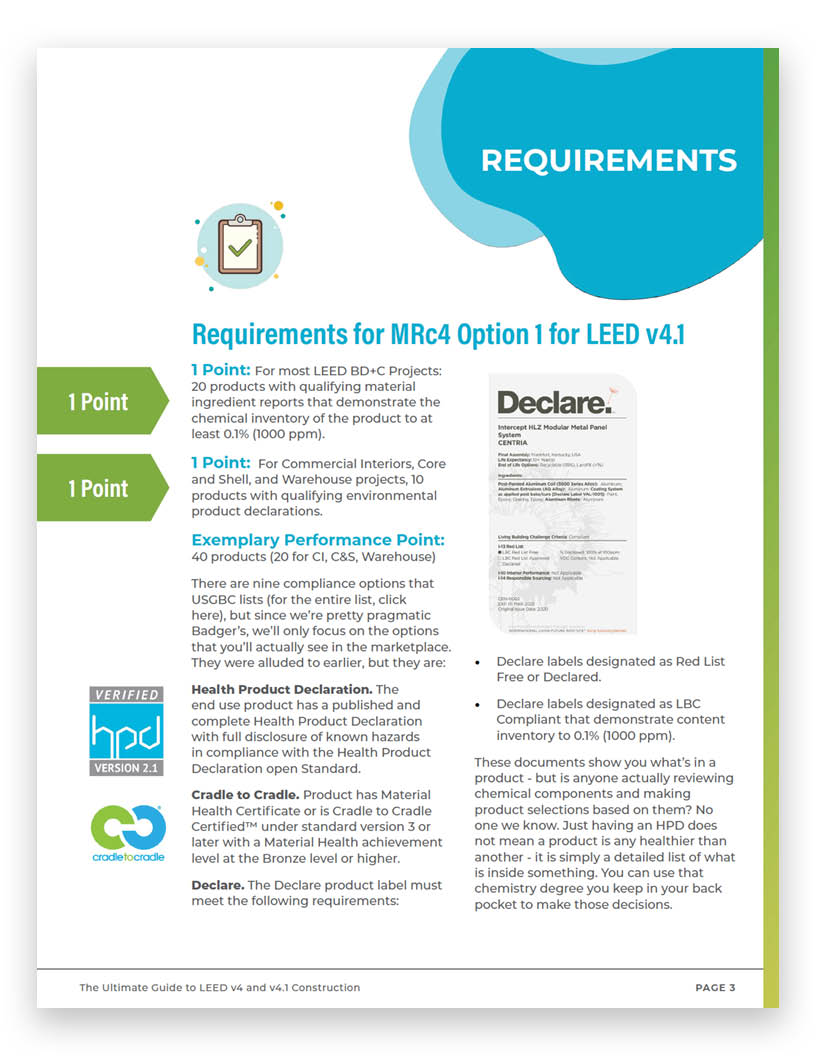 Requirements for MRc4 Option 1: Material Ingredient Reporting in LEED v4 and v4.1
1 Point: For most LEED BD+C Projects: 20 products with qualifying material ingredient reports that demonstrate the chemical inventory of the product to at least 0.1% (1000 ppm).
1 Point: For Commercial Interiors, Core and Shell, and Warehouse projects, 10 products with qualifying environmental product declarations.
Exemplary Performance Point: 40 products (20 for CI, C&S, Warehouse)
There are nine compliance options that USGBC lists (for the entire list, click here), but since we're pretty pragmatic Badger's, we'll only focus on the options that you'll actually see in the marketplace. They were alluded to earlier, but they are:
Health Product Declaration: The end-use product has a published and complete Health Product Declaration with full disclosure of known hazards in compliance with the Health Product Declaration open Standard.
Cradle to Cradle: The product has Material Health Certificate or is Cradle to Cradle Certified™ under standard version 3 or later with a Material Health achievement level at the Bronze level or higher.
Declare Label: The Declare product label must meet the following requirements:

Declare labels designated as Red List Free or Declared.

Declare labels designated as LBC Compliant that demonstrate content inventory to 0.1% (1000 ppm).
These documents show you what's in a product - but is anyone actually reviewing chemical components and making product selections based on them? No one we know. Just having an HPD does not mean a product is any healthier than another - it is simply a detailed list of what is inside something. You can use that chemistry degree you keep in your back pocket to make those decisions.
Download the LEED MRc4 Option 1 eBook to get Actionable Strategies + Best Practices for Material Ingredient Reporting
If you're looking for credit guidance for all the LEED construction credits you'll be tasked with, check out our Ultimate Guide to LEED Construction. It's filled with advice and resources to help your team succeed at LEED.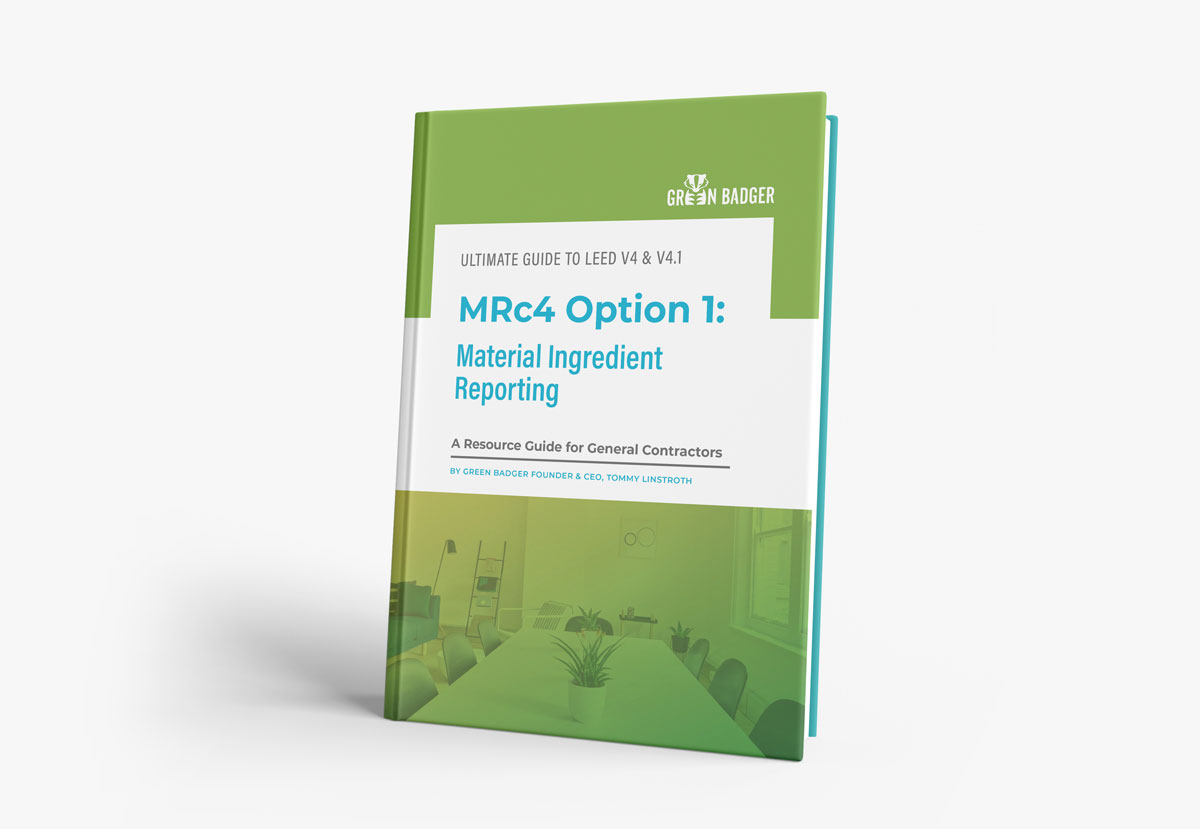 Download the MRc4 Option 1: Material Ingredient Reporting eBook