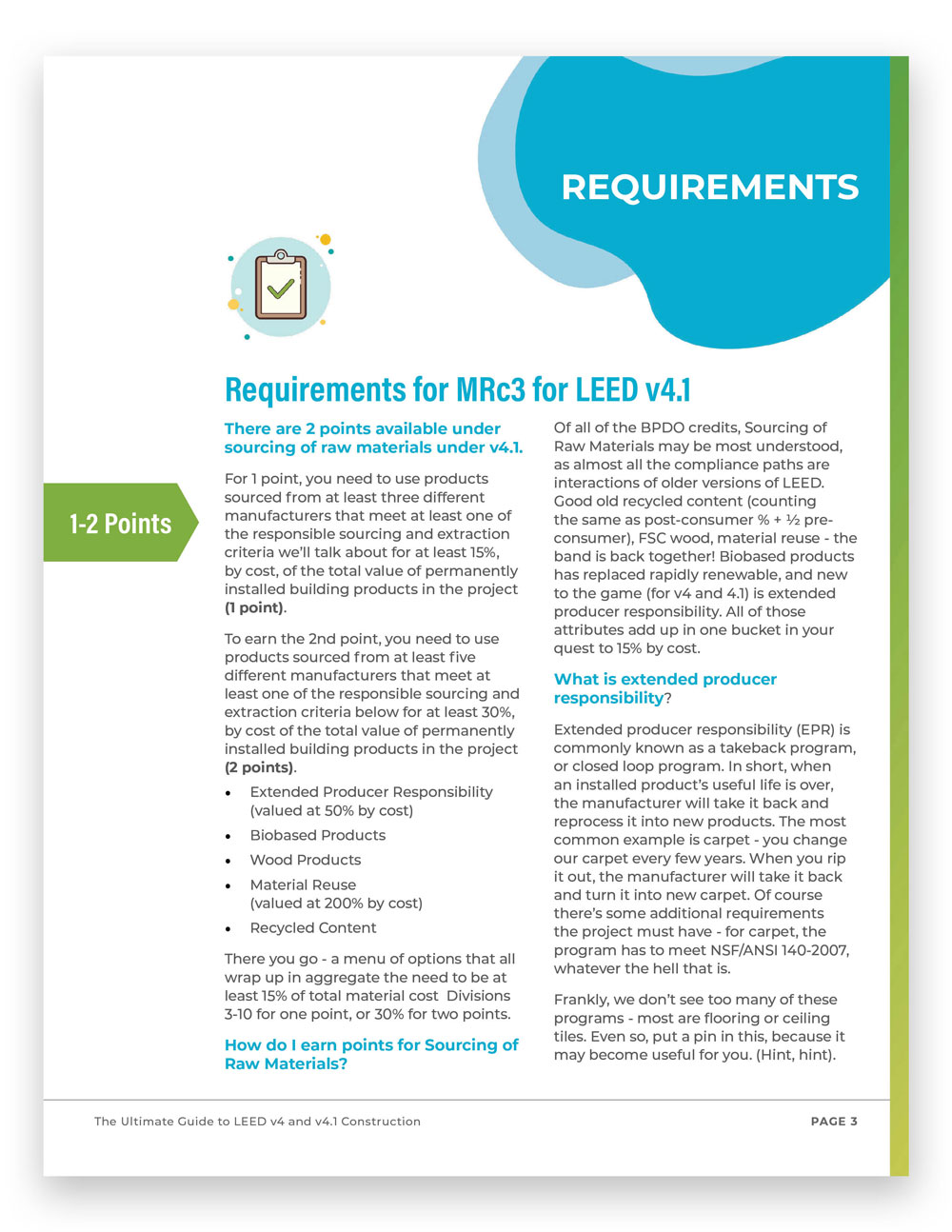 Need guidance on LEED BPDO credits?
We've created a guide to help teams plan a strategy to earn all of the Building Product Disclosure and Optimization credits for LEED v4.1. It may take some very careful planning, but with the April 2021 updates to the BPDO credits all of the options are now at least potentially earnable which is a huge update over prior iterations. Green Badger will give you strategies for how to earn the following credits:
MRc2 Option 1: Environmental Product Declarations
MRc2 Option 2: Multi-Attribute Optimization
MRc3: Sourcing of Raw Materials
MRc4 Option 1: Material Ingredient Reporting
MRc4 Option 2: Material Ingredient Optimization
Download the BPDO Guide to get Actionable Strategies + Best Practices for all the LEED v4 construction materials credits

With the latest updates, Environmental Product Declarations (EPD) Option 1, Sourcing of Raw Materials, and Material Ingredient Optimization are all very achievable. EPD Optimization (Option 2) and Material Ingredient Optimization (Option 2) now have very achievable requirement thresholds, but especially for the former, there are barely 20 products that exist (as of this writing).
Even with the more straightforward EPD and Ingredient reporting credits, we see too much finger-pointing.
The general contractor gets a generic spec that says "Obtain EPDs where available," but no strategy/guidance of where to look, or a spec that calls for a product with an HPD but it costs 20% more. That's where this guide comes in. It's a starting point for where to most easily and readily find products that meet the requirements for all the BPDO. This is NOT a comprehensive list of every single product that has LEED compliant documentation. Go spend a few hundred hours going product by product through all the various databases out there if you want that.