Location: Savannah, GA
Green Badger is looking to hire an energetic and passionate Business Office manager to organize and coordinate administration duties and office procedures. Previous experience as an accounting manager or office administrator would be an advantage. A successful Office manager should have experience with a variety of office software (Quickbooks or accounting software, email tools, spreadsheets and databases) and be able to accurately handle administrative duties. Ultimately, the Office manager should be able to ensure the smooth running of the office and help to improve company procedures and day-to-day operation. A passion for sustainability and the desire to help transform an entire industry is key.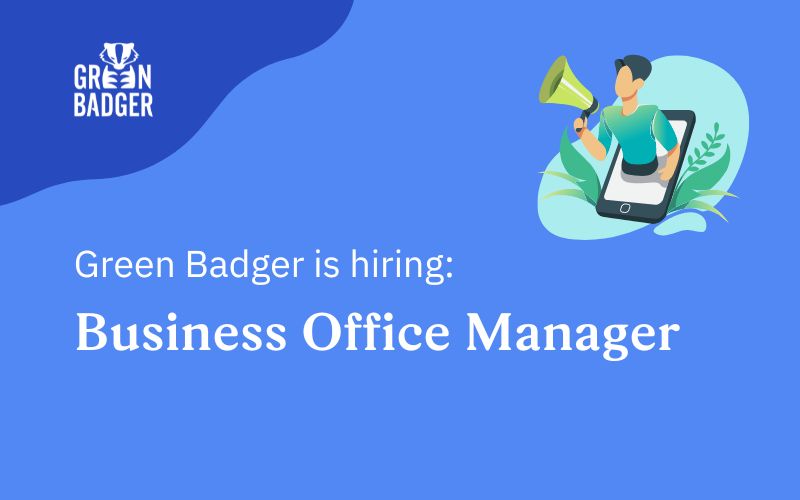 Responsibilities and Duties:
The Business Office Manager coordinates and performs business office and collections functions. Some of the job responsibilities may include but are not limited to:
Responsible for bookkeeping activity and coordination of data including general ledger,
accounts payable / receivable, purchase orders, month end reconciliations, financial
statements & reports, 1099's, bank statement reconciliation and deposits.
Provide weekly/monthly reporting on accounts receivable, outstanding invoices, cash flow
Coordinate trade shows, company events and other company engagements.
Assist in Board Meeting prep - Create monthly board reports, prepare agendas and ensure distribution of materials and minutes as necessary.
Manage office General and Administrative budget, ensure accurate and timely reporting
Assist in the onboarding process for new hires
Assist with preparation of presentation materials using Power Point, MS Office Software, Google Cloud services, and other software as necessary.
Assist with various needs on projects like weekly KPI updates, Performance review facilitation, and spread sheets
Assist with customer management, including prospect research, LinkedIn reviews, phone call responses
Participate in corporate sustainability and culture committees
Executive assistant to the CEO
Skills:
Proven experience as an Office manager, accounting manager or administrative assistant
Knowledge of office administrator responsibilities, systems and procedures
Proficiency in MS Office (MS Excel and MS Powerpoint, in particular)
Proficiency in Quickbooks
Ability to prioritize and coordinate multiple projects.
Excellent time management skills and ability to multi-task and prioritize work
Attention to detail and problem-solving skills
Excellent written and verbal communication skills
Strong organizational and planning skills in a fast-paced environment
A creative mind with an ability to suggest improvements
Notary is a plus or capable of becoming a Notary
Experience:
Administrative experience: 5 years (Preferred)
2-year degree in Accounting, Office Management or equivalent is a bonus, but not required
Job Type: Full time or Part time
What we offer:
What is in it for you? You'll work for a trailblazing company redefining green construction management; you'll work with products that you believe in; you'll help introduce change to the way your customers work; you'll have the opportunity for equity options; and you'll be surrounded by a team of leaders and teammates who will inspire you on a daily basis. We are working to redefine an industry. We value creativity, hard work, and on-the-job-excellence and offer competitive compensation and benefits packages.
What we offer:
Flexible working environment, hybrid work (must be living in/relocating to Savannah, GA)
Comprehensive on-boarding and training process so you feel prepared!
Salary based on experience
Health, vision and dental insurance
401k with company match
Flexible vacation policy - minimum 15 days PTO
About Green Badger
Green Badger provides innovative software solutions to streamline and automate green construction compliance for general contractors, owners, architects and consultants. We're revolutionizing the green building industry by allowing teams to actually make buildings greener without the cost, headache and hassle of paperwork. We're located in beautiful downtown Savannah, GA, a historic city with an excellent, affordable quality of life.
To apply, send resume and cover letter to careers@getgreenbadger.com