There are some LEED credits that are easy to implement and hard to document, some that are hard to implement but easy to document, and some weird combination in between. IEQc3.1 falls somewhere in the middle.
Implementation of IEQc3.1
One on hand, implementation should be easy – none of it is rocket science. If there is ductwork onsite, keep it covered. Once it is installed, tape it off. Don't keep a dirty jobsite that your mother wouldn't be proud of. Keep drywall dry. Don't let the carpet get wet. DUH!
Documentation of IEQc3.1
And then there is the documentation side of things. You know what it involves? Taking pictures! That's pretty much it! And you might not even need them! LEED Online gives you two verification methods:
Submit photos documenting construction and moisture protection methods OR
Just have the Contractor promise/confirm that said measures were done. Wow – that's pretty dang easy!
Sure, if you've used air handlers, you need to change the filters, etc, but pretty straightforward, right?
Here's where the trouble arises.
First – implementation. It is easy to let ducts become uncovered, or to let your site get dirty. That's on you. I can't help you with that. But it can be easy to screw up the documentation too – and it can cost you.
If you've opted for Option 1, Photos, you need to provide photos documenting your methods, and they should all be date and time stamped. AND photos of noted moisture protection methods must be on AT LEAST 2 different time periods. That's a lot of photos to keep track of, AND they better be date/time stamped – and even better, labeled for the measure.
What do I see happen all the time instead? The project ends, the team is scrambling to find that damn picture of a covered duct – does this look familiar? Good luck digging through that!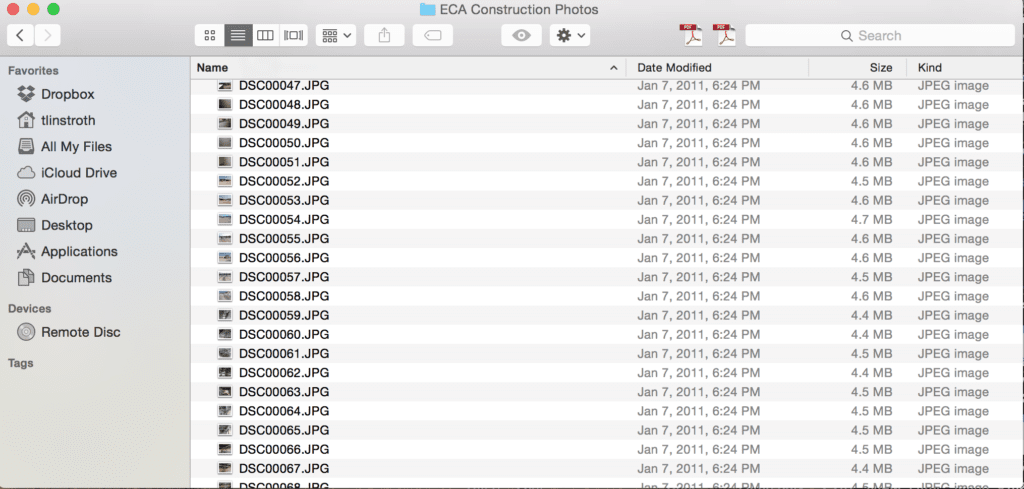 A file folder with thousands of pictures, all labeled the exact same thing, and you've got to sort through and find the ones that you've taken that document what needs to be shown. Have fun with that! If you want to make your life easier, here is a really, really simple tip that will take all of 2 seconds on the front end, but save you this nightmare on the backend.
The Badger's Advice
Once the building is nearing dried in (and you have your HVAC ductwork on site) once per month, spend 10 minutes walking the site and just take pictures of your SMACNA measures (make sure your date/timestamp is on, our use the kickass Green Badger app, which does it automatically).
Then, go back to your desk, and drag and drop those photos into a simple report. Of course the Green Badger app automatically generates a report, but otherwise drop them into a powerpoint file (it is the easiest way to drag in pictures and add text fields for labels) and call it a day. Maybe it looks like something nice like this.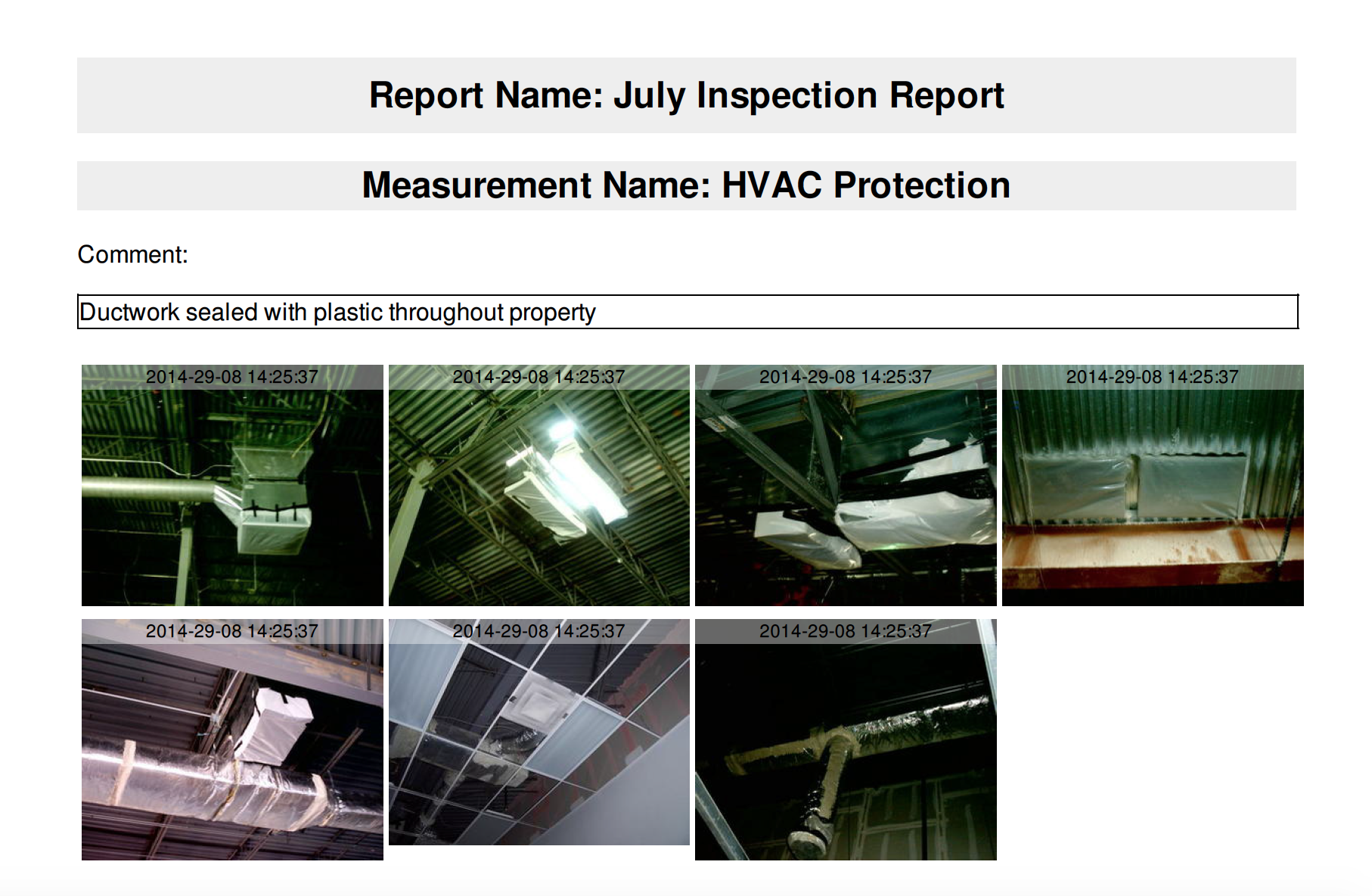 Label it Month 1 report, or whatever you'd like, and save it! Do that every month. Trust me, it might seem like a hassle, but its way easier than trying to piece this together when your owner is screaming at you to get the dang certification wrapped up. And if you're doing option 2, the reviewers might still come back and ask you for pictures. Fun! So better be prepared either way.
Badger Summary for IEQc3.1:
1 report per month (once you're vertical)
Pictures of each relevant SMACNA measure
Date/time stamped
Label each measure
Beer-Thirty
---
Learn more about the software solution that has been proven to streamline and automate LEED documentation on projects across the country:
Green Badger is a comprehensive solution for equipping project teams of all levels of experience with the tools they need to document LEED as efficiently as possible. Green Badger pairs cloud based technology with project specific training, LEED tips and tricks, and ongoing project team support. The cross-platform, cloud-based solution connects your team so that everyone has access to real time updates, can document from the field, and automate repetitive and time consuming tasks.